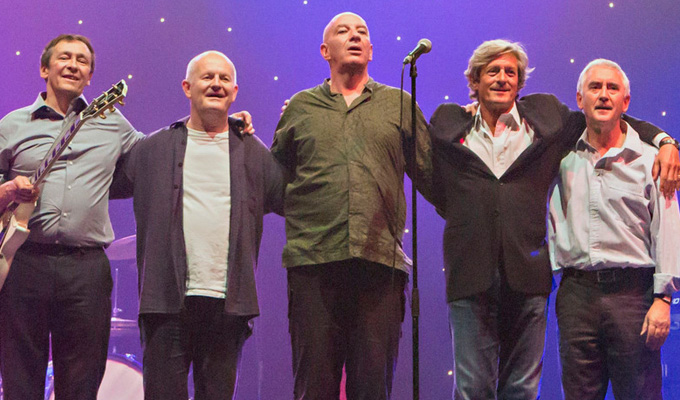 An Evening with Brian Pern
Note: This review is from 2016
We've had to bid farewell to too many rock colossuses already this year, so three Cheers for the chance to celebrate 45 years of pioneering musical reinvention while its mastermind, Brian Pern, is still around.
Neither the self-proclaimed 'inventor of world music' nor his prog rock band Thotch are real, but don't tell that to any of the fans who thronged to London's Lyric Theatre. For this is a massive in-joke which everyone's wise to but Pern, the humourless, earnest maker of music that's important and serious, rather than being anything so vulgar as catchy.
It might seem a tall order to make an entertaining show out of tracks that are wilfully obtuse, but as with the BBC Four series, it is Pern's back story, and his perfectly realised, un-self-aware character, that make this gig work. That and the knowing references to rock's more po-faced exponents, from Peter Gabriel and Brian Eno to Sting, whose car-crash Newsnight interview is cleverly re-edited here to put Pern at Jeremy Paxman's mercy.
In the role he seems made for, Simon Day maintains a stony facade and monosyllabic answers as he's questioned over his long career by the character's originator, Rhys Thomas. Though the fact that you can sometimes see him fight back the urge to corpse during some of the sillier answers adds to the pleasure of seeing him in a live setting. That, combined with the under-rehearsed nature of the whole evening, creates a loose atmosphere that amplifies the joy of the shared experience. The performers might not have been word perfect, but the performances were note-perfect.
A parade of guest stars, most from the TV series, join in the fun, too, including Charlie Higson as the long-serving archivist Pern forgot existed, and Tony Way as Ned, Pern's driver, recreating a filthy novelty record much to the rock legend's obvious chagrin. A huge cheer goes up as Pern's manager John Farrow is introduced, though sadly actor Michael Kitchen is on video screen only.
Two of the supporting cast steal the show. After Level 42's Mark King makes a surprise appearance for the Sledgehammer-like Spirit Level, he upstages Pern so much he harrumphs off, opening the way for a spirited rendition of Running In The Family.
The other is TV co-star Lucy Montgomery, who does a tornado-force turn as his worryingly young Mexican wife, Papita, a delightful chimchanga of Latin passion, lisping lyrics, and gynaecological over-sharing, among other supporting characters, all larger than life compared to the naturalism of Pern and his cohorts. Why don't we see more of her on telly? Titty Bang Bang surely shouldn't be her only legacy. (That said, Dame Xanadu Bramble an obvious Zandra Rhodes parody, is a less certain creation)
Much of Pern's back catalogue gets a run-out; Day Of The Triffids, the sci-fi rock opera whose idea Jeff Wayne shamelessly stole; protest songs such as Dial N For Nados, about turning Alfred Hitchcock's birthplace into a chicken joint and Succulent Chinese Meal, about a man arrested for not using chopsticks; and a track from his Madchester phase,with Montgomery as a breathless Bez. We even got a festive medley, complete with note-perfect Jona Lewie spoof – possibly because this date had originally been scheduled before Christmas, but had to be moved because on the original date Pern 'had to stay in to sign for a bread maker'.
The inspirations for these tracks are obvious, especially for the high proportion of musos in Pern's fan base. Day even inadvertently introduced Keep Trying – his tribute to his great pal Clive Sinclair – as Don't Give Up. Whatever could he have been thinking of?
Every bit of nostalgia is perfectly observed. When Higson's archivist lists the cache of programmes he found in a Syrian bombsite, it comprises 'Dangerfield, Wizbit and Dear John' – brilliantly obscure titles all. And the catalogue of celebs minor and major Pern has slept with might not be a veritable Who's Who of show business, but it is at least a 1989 TV Times annual.
And at the end of this gig – a benefit for mollusc awareness to try to prevent the 'snail genocide' Pern believes more important that any humanitarian cause – the moment the crowd had all been hoping for: A Thotch reunion, complete with Paul Whitehouse as Pat Quid and Nigel Havers, game as ever as Tony Pebblé.
You could pick a few minor faults with the show: some of the ironic self-indulgence in the music can occasionally make it dull (no wonder Montgomery belted out Proud Mary as an energy-lifter), while an attempt at introducing a dramatic plot in the second half seemed unnecessary. But as a shared celebration of a musical legend - real or not - An Evening with Brian Pern was an experience not to be missed.
Review date: 2 Feb 2016
Reviewed by: Steve Bennett
Reviewed at: Lyric Theatre Shaftesbury Avenue
Recent Reviews
What do you think?