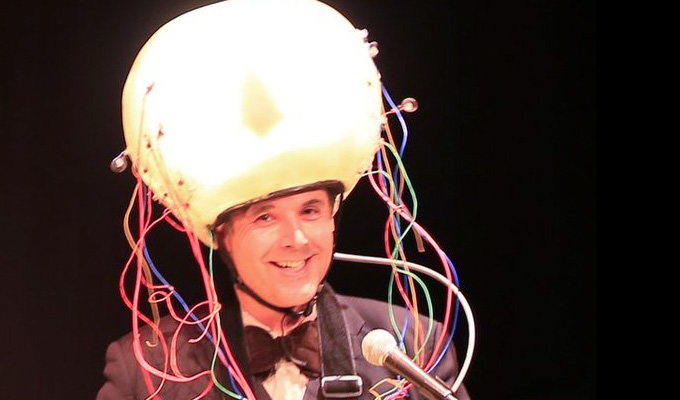 Robert Newman: The Brain Show
Note: This review is from 2016
He is dressed as he should be – as if he's about to deliver a lecture to the Royal Institution, in tweed jacket, smart waistcoat and bow tie, which he occasionally twiddles.
But Robert Newman comes to criticise science, not to praise it. As his previous show challenged the 'survival of the fittest' paradigm of evolution, The Brain Show takes on neuroscience, which he fears dehumanises us, reducing our minds to machines. He's sceptical about the very experimental basis of the discipline, suspecting that measuring oxygen demand in areas of the brain using an ECG is too imprecise, only able to see huge numbers of neurons and delayed by physiology.
To what extent his scepticism is justified might be open to question, but he's certainly done his research, quoting primary sources – and joking that material about obscure academic papers should surely see him playing the big arenas soon. But then again, he's been there, done that.
Background work even involved him taking part in a study conducted by University College London into the science of romantic love, where he struck up a friendship/flirtation with one of the researchers, despite their differing views. This neat story forms a loose tarpaulin that tries to stop the various balloons of his thoughts drifting away, but is only partially successful.
The Brain Show is not as focussed as you might think, as Newman digresses into his over-empathetic next-door neighbour, the state of bland, generic 'is it me or is everything shit?' stand-up and disparaging comments about David Bowie that deliberately went against the mood of room, and indeed the entire country, causing something of a wobble in the atmosphere.
Closer to the topic in hand, or in skull, he offers up some fascinating examples of behaviour from the animal kingdom, from Hawaiian bobtail squid to lemon ants, the vicious capitalists of the insect world, plus an effective debunking of the paper that claimed boys are evolutionarily predisposed to favour blue, while girls prefer pink. Neurosceptic Newman has got little time for pseudo-science – or even Professor Brian Cox, another beloved public figure falling to the iconoclast's mockery. Ironic, as fans of Cox and Robin Ince's work are likely to be his target audience.
The comedy segments feel tagged on to his serious discourse as he plays out little sketches or deploys a few props to illuminate his points, sometimes literally. These interludes drag back the serious stuff; while the serious stuff drags back the comedy in an uneasy compromise. And in the end, the show – a jumbled range of thoughts, memories and instincts, much like the brain itself – turns out to be more interesting than funny.
The delivery, too, is rather subdued, even before the ill-judged Bowie comments – though The Brain Show is still likely to cause the neurons controlling the smile muscles to fire at least now and again.
Review date: 12 Jan 2016
Reviewed by: Steve Bennett
Reviewed at: Soho Theatre
Recent Reviews
What do you think?