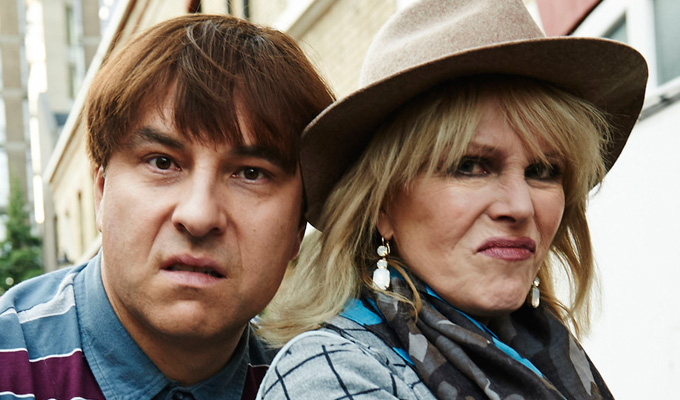 Walliams And Friend
Note: This review is from 2015
If you are going to emulate a mainstream Christmas show of a former era, you may as well go for one of the biggest. For many of the sketches in David Walliams & Friend – the best ones – had all the hallmarks of being written for the Two Ronnies.
The spokesman making a silly official statement and the married couple who finish each others'… wine deployed the same sort of wordplay as the classic duo. And Walliams and Mike Wozniak even played two middle-class men encountering each other at a dinner party - in this case including the inventor of autocorrect; the new way of repackaging old 'dyslexia' jokes.
They also had a newsreader sketch (albeit a far tetchier format than Messrs Barker and Corbett's); and Walliams has long been prone to dragging up, as did Messrs Barker and Corbett. All the show needed was a song-and-dance closer and a shaggy-dog story from an easy chair, and you'd have the full package..
The strike rate is about 60-40 in their favour, even if many scenes outstayed their welcome, with strong ideas simply being reinforced, rather than built on or taken in new directions. Treating James Bond as if a nervous teenager needing maternal help from M was a fine example, or a smarmy Walliams advertising Cash For Money.
Walliams' titular 'friend' is Joanna Lumley; which seems to do a disservice to other members of the cast not to include them; including Morgana Robinson, Colin Hoult and Barunka O'Shaughnessy – and particularly Wozniak, whose frustrated middle-class caricatures are given a good showcase here. As he nailed the archetypes, this will do Wozniak's status as a character actor no end of good, even if range isn't his forte. The same criticism is true of Walliams, of course, who is rarely other David Walliams in make-up, whether an orange-faced tanning salon owner or
The show was written by the Dawson Bros and Walliams, whose time on Britain's Got Talent has been mined for a mild mockery of a Simon Cowell-style boy band mogul. Elsewhere, his corporate drone reading a fairy story to his daughter as if it were a business presentation was one of the stand-outs.
Lumley is far more versatile, though the skit introducing her seems overly deferential… a little too congratulatory for an actress who's never been backwards in taking the micky out of herself. Their double act as Paul Hollywood and Mary Berry fizzing with sexual tension exchanging entendres which, like the cream, are double. It's memorable, if a bit obvious, sadly.
But overall the show is an effective one-off that will surely lead to Walliams being paired up with more friends in the future.
• Walliams & Friend is on BBC One at 10.05pm tonight
Review date: 24 Dec 2015
Reviewed by: Steve Bennett
Recent Reviews
What do you think?