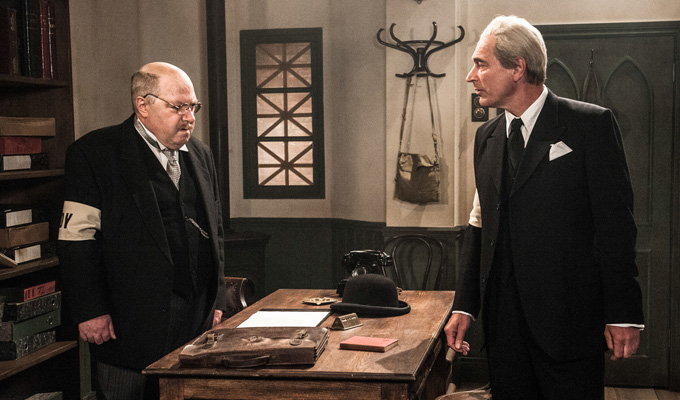 We're Doomed! The Dad's Army Story
Note: This review is from 2015
This is W1A, 1967-style… in which a fearful BBC, riven by internal divisions, doesn't quite put its faith in the talent – and only narrowly avoided killing off one of its most enduring hits before it was even born.
At least that's one strand of the fascinating, and wittily told, tale of how Dad's Army made its torturous journey to the screen, with the fearsome head of BBC One, Paul Fox (played by a stern-faced Keith Allen) worried about mocking Britain's last line of defence with memories of the war still fresh.
Yet writers Jimmy Perry and David Croft found some ferocious supporters in head of light entertainment Tom Soan (here played by Stuart McQuarrie) and head of comedy Michael Mills (Harry Peacock), who were given autonomy to commission a series despite the bigwigs' reservations – a scenario which you suspect would be unheard of in today's compliance-conscious times.
We know the ending to this story, of course – nine series of a sitcom that still attracts big audiences today. And the writer of this joyous dramatisation, Stephen Russell, isn't shy about slipping in future catchphrases to make the audience go 'Aha… that's what he says in the show!'
Those behind Dad's Army soon realise the key to the success of their new venture is casting… and so too it is here. And in both cases they score big.
Jewel in the crown is John Sessions, so unrecognisable as Arthur Lowe you'd think they'd somehow defrosted the Captain Mainwaring star from suspended animation. Stories of his pomposity, his forgetting lines, even succumbing to narcolepsy on set abound, but thought a worry here he's treated rather sympathetically. Similarly, volumes have been written about John Le Mesurier's tangled love life, but here he's presented, courtesy of Julian Sands, as he will rightly be remembered, as the perfect Sergeant Wilson.
Great casting, too, for Ralph Raich as the no-nonsense Shakespearean John Laurie, outraged that the full description of dour Private Frazer is just 'Scottish'; and for Roy Hudd as Bud Flanagan. The moment he sings the classic lines: 'Who do you think you are kidding, Mr Hitler,' a shiver runs down the spine. 'It sounds like something I've been singing for years' Flanagan tells Perry. 'And I mean that in a good way.'
Did that really happen? Hard to say with any drama-documentary. This one starts with the disclaimer: 'Some scenes in this film are imagined, but don't panic, most of this really happened'… but the tone feels authentic, and there are lots of lesser-known details, such as the fact that the sitcom was initially called The Fighting Tigers, that add to the credibility.
However, We're Doomed! is not the story of the cast, but the story of the creators. Here both Richard Dormer and Paul Ritter contribute well-pitched quasi-comic performances as Croft – the frustrated producer seeking a project to impassion him – and Perry – the jobbing actor who wants to write a role for himself, but has to accept, reluctantly, that it's not to be. They also have to concede that their idea to start the comedy with real newsreel footage from the war sets the wrong tone.
So maybe the message is that sometimes compromise is the way forward, given how recognisable the title sequence is today.
• We're Doomed! The Dad's Army Story is on BBC Two tonight at 9pm and repeated on Christmas Day at 10.20pm. And if the show piques your interested, several documents about the creation of Dad's Army from the BBC archives have been put online here
Trailer:
Review date: 22 Dec 2015
Reviewed by: Steve Bennett
Recent Reviews
What do you think?