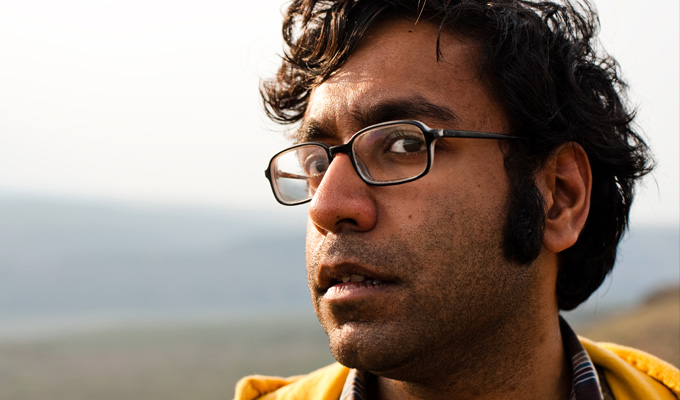 Hari Kondabolu
Note: This review is from 2015
In his first UK gigs in almost five years, New Yorker Hari Kondabolu promises a mix of the old, the new, and stuff he wrote on the plane over.
The latter – almost inevitably for any political comic with a social conscience – concerns Donald Trump, and his proposals to ban all Muslims from America. Kondabolu's riposte is convoluted, but exposes the suggestion for the ridiculous racism it is.
'If you laugh I'm a comedian, if you don't I'm a satirist,' he jokes. He's a mix of the two, with his savvy social commentary that's never more astute than on matters of race. And if you think that means deploying the old trope of adopting his Indian parents' accent for a cheap laugh, you've got another think coming. They have, he argues, suffered enough already.
Kondabolu is not afraid to wear either his devout liberalism or his fierce intelligence on his sleeve. He has an MA in human rights from the London School of Economics and is still fired up by seeking social justice in all its forms, whether based on ethnicity, gender or sexuality.
After suggesting we eat the rich, he says under his breath: 'A modest proposal'… a reference to Jonathan Swift that goes unnoticed, said exclusively for his own satisfaction. Mostly, though, the cleverness subtly underpins the arguments, he's not trying to alienate with a smarter-than-thou attitude.
He teases rather than savages, with a playful air surrounding his observations on even the most contentious of issues. Certainly you believe him when he some of the gags don't work in large chunks of America. But the consequences of colonialism and the unfair advantages they\'ve given to anyone white is rooted in historical fact, and he wants to make more white folk uncomfortably aware of the fact at least. Add in that he's an atheist believer in marriage equality who thinks the US gun lobby might be too powerful, and you'd see why he'd make reactionaries like Donald Trump red(der) in the face.
His show is not all social politics, although mostly it is. And away from his core topics, he must be the only comedian ever to have a routine about modern artists Cy Twombly, while he makes the story of meeting Vice President Joe Biden about interpersonal awkwardness on both sides more than anything more contentious.
In delivery, Kondabolu is laid-back and approachable, a man of reason more than polemic. And he brushes off the sections of the new material that don't land squarely, either by blaming us or himself. In one routine that struggled he accidentally said 'Kid Rock' when he meant Chris Rock – making an already baffling story of mistaken identity even more confusing. Let's blame the jet-lag, or the fact he'd just been thrown off his pace by the prolonged interruption of a renegade rape alarm that disrupted the show for a long two minutes just moments earlier.
Kondabolu's sensibilities probably chime more with the less partisan British audiences than they would in America's blue states – so let's hope for a hasty, and longer return.
Review date: 12 Dec 2015
Reviewed by: Steve Bennett
Reviewed at: Soho Theatre
Recent Reviews
What do you think?