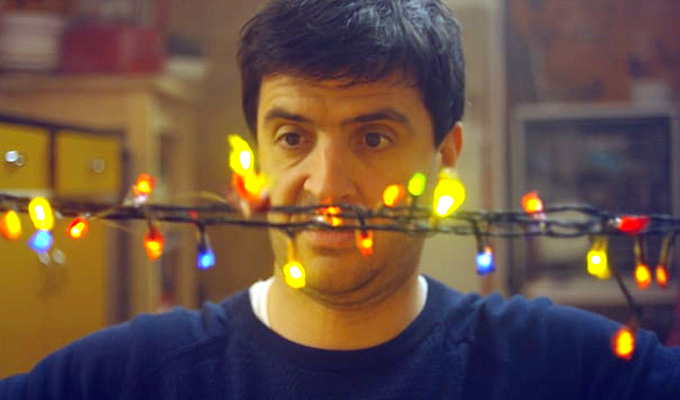 Sky Arts Christmas Comedy Shorts
Note: This review is from 2015
Comedians are a cynical bunch, judging from a batch of 12 Christmas shorts unveiled by Sky Arts today.
The broadcaster signed up the toasts of the Edinburgh Fringe, and a couple more besides, to make festive-themed films lasting between five and ten minutes. And the majority focussed on the bleak, the strange, or the awkward moments surrounding the festive season. Almost inevitably, a couple of gags occur in more than one of the films, too.
Sky are very happy with the results. At a screening in London this morning attended by many of the comedians and their agents, Sky Arts chief Phil Edgar-Jones said: 'I think we'll do this again…'
They films are available to on-demand customers from today – and will be broadcast on Sky Arts on Christmas Day from 10:05pm.
Here is our verdict on of the films, in the order they will air on TV.
Pappy's: Probably the most TV-experienced of the lot, thanks to BBC Three's Badults and more, the trio of Matthew Crosby, Ben Clark and Tom Parry have created a nicely put-together short as gags and observations build to a satisfying conclusion. It all starts as our Three Unwise Men break down on the way back from a Christmas Eve gig, where their cheesy puns had fallen on deaf ears. Trapped in their car they exchange wittily stupid musings on the likes of Secret Santa and the John Lewis Christmas ad. And Dara O Briain proves himself a great sport in a game cameo.
Trygve Wakenshaw: The physical comedian behind the live shows Squidboy, Kraken and Nautilus offers his take on a classic set-up here, trying to sneak silently around the house as he does the Santa Claus duties on Christmas night… failing dismally, of course. There are some nice touches in the extents he goes to for authenticity in his present-delivery; and a great payoff at the end. Oh, and in the credits you might spot that his character's name is Cliftracts Penktinkerton, which has a nice ring…
Lolly Adefope: This starts with Adefope performing in a style with which she's very much at home, a shy girl who's thought of an allegedly amusing comment, which plays on her excited lips as she builds up he confidence to say it. When she does, it singularly fails to impress Natasha Demetriou, playing an aloof, cynical colleague from an unspecified Continental nation. They are both elves at a low-rent shopping centre grotto, and when Father Christmas fails to show, Adefope dons the red suit herself, prompting one parent to complain that a black Santa is 'political correctness gone mad', while others are over-keen to show their liberal values. It's an entertainingly knowing script, with Demetriou relishing telling the dark customs of her homeland loosely based on the strange – and, let's face it, racist – Dutch legend of Black Pete.
Gein's Family Gift Shop: The trio offer a very bleak image of Christmas in their shabby flat, old sports socks hanging from the mantelpiece in lieu of the stockings. The set designer has even made fairy lights seem grim. We start with Ed Easton dancing hilariously badly with excitement at the prospect of Santa's arrival, but his illusions are shattered, before things take an unexpected turn into the horrific, and then into the plain odd. Kath Hughes and James Meehan co-star, and look out, too, for Justin Moorhouse as a very convincing Father Christmas.
The Horne Section: Made to look as if it was shot on old film stock, this short has Alex Horne and his band offering their version of a cloying Bing Crosby-style festive special as fake friends holed up in an elegant country home while the snow falls outside. The clunking, stilted exchanges between Horne and the musicians are a delight, while they showcase a couple of Yuletide tracks, most satisfying of which is a deliciously blasphemous reimagining of the Nativity with disgusting images contrasting with the beautiful hymn-like presentation.
Sam Simmons: The Australian absurdist shuns all the cosy warmth of Christmas to set his film in a stark, clinical laboratory, where he and his staff (Bridget Christie and Kieran Hodgson) are working on Christmas cracker jokes. Generously, Simmons gives a lot of the best moments to Matt King – channeling his Superhans intensity and oddness into the role of Tall Pall, a mysterious humour troubleshooter. Blink and you might miss Mike Wilmot's cameo contributions to this peculiar scenario.
Limmy: Four years after Limmy's Show ended on the BBC, DIY comedy maestro Brian Limmond is back with more selfies of the sketch comedy world. Holding his own video camera, he offers some advice for those who are spending Christmas alone, unusual diet tips and a sketch heavy with marital tension. Sometimes astute, sometimes juvenile, the quality's inconsistent, but Limmy is an unconventionally compelling performer whose quirky personality shines through.
Tez Ilyas: This one seems like a sketchification of a stand-up routine as the comic mulls what a Muslim Father Christmas would be like or deconstructs the easy-to-mock lyrics of 12 Days Of Christmas. The setting is a shisha cafe which his younger brother and co-owner, played by Guz Khan (aka Guzzy Bear) is trying to make more Christmassy. There's probably more that could be done with the idea, as it seems they only scratch the surface here.
Joseph Morpurgo: In a stand-out move, Morpurgo's short is shot as if from the video camera of a bored father being dragged along to his son's Nativity play, by his pushy mum (Cariad Lloyd). Though there are some strong performances, not least from Mike Wozniak, who can get a laugh from a pissed-off stare in the role of a fellow parent, the humour doesn't entirely do justice to the imaginative set-up.
Twisted Loaf: The only real dud of the dozen, Libby Northedge and Nina Smith embraced the dark spirit of David Lynch, though aren't as funny. They seem very pleased with their weirdness, a self-consciousness at odds with other surreal acts who tend to have playful fun with the lack of boundaries. Instead, this seems to be uncomfortable for its own sake. The pair, who have an aggressive, dysfunctional relationship, are charged with getting a church ready for the Christmas Eve service, but mess it up.
Nish Kumar: A change of tone here, for a short that shelves the cynicism and actually celebrates the spirit of Christmas. Kumar plays an actor who became insufferable last Christmas when he landed the part in a Hollywood film, alienating his friends (Ed Gamble, Tom Neenan and Massive Dad Tessa Coates) at their annual get-together. Twelve months later and he's been kicked off the film – revealed in a bruising meeting with his agent, played by Aisling Bea – and wonders if he can face them again. The pay-off, courtesy of Santa David Trent, might a little corny, but that' Christmas for you…
Spencer Jones: This is the stand-out of the lot, a heart-warming story based on a simple premise, some great gags, and the warmth of his performance. After a grinch steals Christmas – or, more accurately, the car containing all the presents and accoutrements for the big day – Jones stays up all night improvising gifts from what he could scavenge from the hardware shop at midnight. His character is basically 'best Dad ever', inventive, playful and prepared to do anything for his family – an optimism that rubs up against his sourpuss sister-in-law. A perfect combination of laugh-out-loud moments, including the final punchline, and a genuine feelgood spirit. More please!
Review date: 9 Dec 2015
Reviewed by: Steve Bennett
Recent Reviews
What do you think?