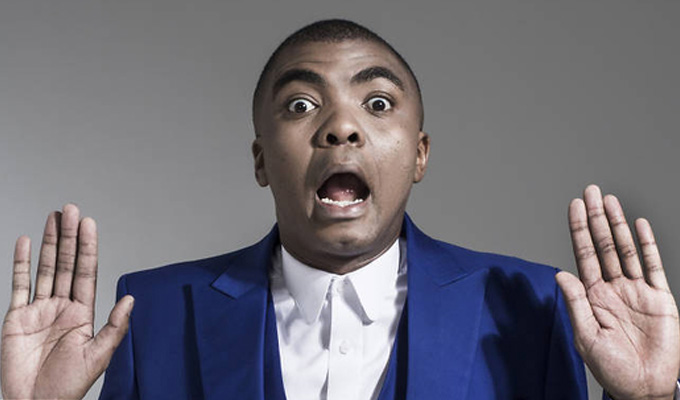 Loyiso Gola: Tall Tales
Note: This review is from 2015
Perhaps it's apt for a comedian from the Rainbow nation of so many different groups and 11 official languages, but Loyiso Gola's show is bitty in tone and ambition.
The social ravine between the privileged white West and a Xhorsa like him is the rich seam of humour you might expect, and he mines it playfully. But it's peppered with some bland observational comedy that is disappointingly underdeveloped. Even with his more politically astute comments are sometimes diluted with a hesitant train of thought that doesn't always seem clear where its heading.
Sometimes, too, the comedy is limply formulaic. Noticing that the smallest hint of beetroot turns every dish it's in red, he expands by pretending to be an arrogant beetroot stomping around saying: 'I don't give a fuck!' And that's it. There's no revelatory observation here, no imaginative interpretation of what everyone's seen,not even a particularly silly impression of a beetroot; he's just going through the motions of what a stand-up does.
Likewise, he might do a 'what's the deal with air travel?' bit, or notice that women have lots of lotions and potions while men couldn't care less. They are routine, dare I say hacky, observations, without much added value. And a couple of routines are dangerously close to other comics' – the gymnastics dismount, for example, was done far better by Lee Mack.
Such slips make Gola seem like a rookie, but he's quite the star back home – a contestant in Celebrity Masterchef no less. However in London, he struggles to half-fill the Soho Theatre's modest upstairs room, making an intimate treat for his compatriots in the audience. One fan even giggles loudly at set-ups, just at the promise of what might be said.
Gola is likeable and relaxed – perhaps a bit too much sometimes as he meanders half-heartedly towards routines – and has a winning way of breaking a serious moment with an impish kilowatt-smile, breaking any faux innocence in the set-ups. He encourages a little chit-chat in the crowd to set him right on local reference points, too.
But when he gets a satirical bit between his teeth, the comedy jumps up a couple of gears. The obligatory Oscar Pistorius routine, which starts bizarrely about February 14 being the wrong day to shoot your girlfriend dead, as if it were merely a matter of bad timing, ends with a savvy supposition about why the Olympian was forever crying in the dock.
Gola is savvy, too, about the South African president, 'giggling' Jacob Zuma, exposing his personal and policy flaws so adeptly that even Brits previously unaware of his traits can laugh at them.
Sometimes he just wants to make a point, such as the fact that one man's terrorist is another man's freedom fighter – Nelson Mandela, say – or stressing that Britain was using concentration camps long before Hitler, during the Second Boer War. Pertinent, perhaps, but you have to forgive him that they're not funny.
Gola is socially astute, beyond the inherent new perspective that any comedian from elsewhere can bring. Growing up in multicultural South Africa certainly helped, attending a predominantly Muslim school and – in a hangover from apartheid – having to study in Afrikaans. And though he speaks four languages, he gets a laugh for talking about 'a bull in a Chinese shop' that he can't quite fathom, but ploughs on regardless
Personal anecdotes such as schoolboy pranks add to the variety-pack feel of his set, but it's only when he's talking the big issues does he really stand out from the crowd.
Review date: 19 Nov 2015
Reviewed by: Steve Bennett
Reviewed at: Soho Theatre
Recent Reviews
What do you think?