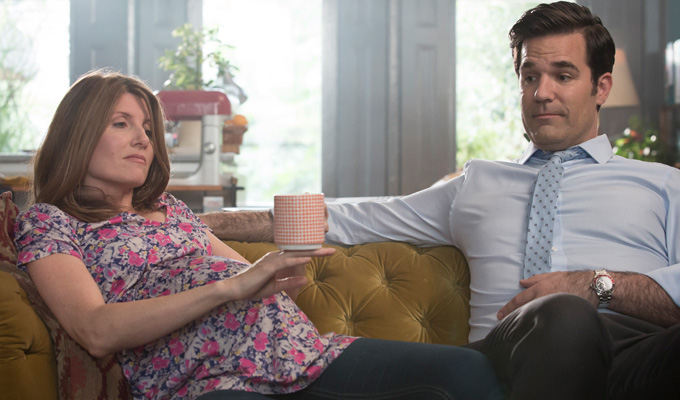 Catastrophe: Series 2
Commissioned in double-quick time, the second series of Catastrophe shows no signs of letting up: not on the brutal true-to-life comedy, nor on the agony Sharon Horgan and Rob Delaney heap on their poor characters.
We pick up where series one left off (seemingly) with Sharon's pregnancy putting extra stress on their relationship… or rather 'one-night-stand that got out of hand'. Theirs is a relationship born of adversity and built out of expediency, the title perfectly encapsulating the way they barrel between crises, muddling through and making it up as they go along. And now they are parents – for the second time, as it become apparent – the stakes are only going to be higher.
Their rows are bitter and vicious, but quickly resolved, as there's genuine affection too. Such are the complexities of real marriages – an authenticity which makes Catastrophe stand head-and-shoulders over most sitcoms. Meanwhile the skilled writing brings out delicious one-liners from the emotional extremes, with more warmly amusing character-based scenes providing contrast and texture.
Serious issues such as postnatal depression and Alzheimer's are incorporated, but neither mawkishly or frivolously. An incident with a dog that could be played for brutal slapstick is likewise perfectly handled, awkward and embarrassing, as it would be in life. The 'scenes of a sexual nature' that the announcer warns about before broadcast are all-too realistic too.
The unfolding drama and the relatability of the characters also gives Catastrophe that all-important box-set feel. No sooner is one episode over than you yearn to know what will happen next in their chaotic lives.
Even the supporting cast are great. Chris, especially, is a fantastic creation beautifully coarse, disconcertingly blunt and given extra intensity by Mark Bonnar's stand-out performance. Meanwhile Carrie Fisher – the biggest casting coup in comedy – takes interfering mother-in-laws to a new degree with Mia, the 'haemorrhoid on an arsehole'.
All in all, it makes for a complex, delicious sweet-and-sour taste that will keep the critical garlands flooding in. And deservedly so, for this is proper grown-up comedy in which the consequences are not only hilarious – but credible, too.
Review date: 27 Oct 2015
Reviewed by: Steve Bennett
Recent Reviews
What do you think?