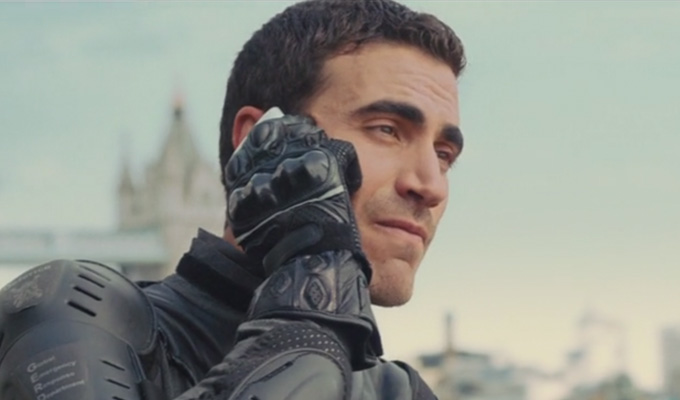 Superbob
Note: This review is from 2015
Well, this is certainly a very British take on the superhero movie. While Marvel Studios demolish CGI cities in a storm of noisy spectacle, Superbob is about a mild-mannered bloke who gets tongue-tied with women, is nagged by his mum, and struggles with the demands of work.
Since being given the powers after being struck by a meteorite, postman Robert Kenner (Brett Goldstein) has become an employee of the Ministry of Defence, just another civil servant compelled to fill out endless forms, which he seems to rather like, rather than some alpha maverick.
The origin story is despatched in three minutes, a montage of him getting to grips with his powers before the opening credits. We pick up with him a few years later trying to enjoy his Tuesday off, as mandated by the United Nations, despite his Whitehall handler (Catherine Tate in full officious, stressed mode) calling him in for some tedious meeting with the Americans, jealous that they haven't got their own superhero they could weaponise.
It's impossible to describe this film without using the adjective 'sweet', but that's what drives everything. Bob's a normal bloke wanting a normal life, but despite his gift is shy, lonely and socially uncomfortable – real obstacles he must overcome if he's to have his date with the stunning local librarian June (Laura Haddock). Like I said, a very British take on things, with Goldstein – who co-wrote the script – charmingly watchable in the vulnerable lead.
The tender romance, with an unlikely Lois Lane, is what drives the film, amid some great jokes – both verbal and visual. Some are bit too cartoony, particularly the vain US senator or the sometimes hysterical – not in the comedy sense – mother (Ruth Sheen). Director Jon Drever was right to ration the humour, lest it exposed the fact that the movie essentially one joke writ large. Most of what he's left is quirky, witty and astute in its comedy of social paralysis.
Although the focus is on the human aspect, Drever pulls off a couple of set pieces on its relatively tiny budget, too, making Peckham just about seem a viable alternative to Gotham for an hour and a half.
Other than Goldstein himself in nice-but-hapless mode, the film's stand-out is Natalia Tena, revelling in the role of brusque Colombian cleaner Dorris. Look out, too, for a number of cameos from the comedy circuit, from Ricky Grover as the useless bodyguard to Rachel Stubbings and Joe Wilkinson doing vox pops about their equivocal feelings towards the superman in their midst. As ever, the Brits can't have anything nice without grumbling a bit about it.
Hopefully the same can't be said of Superbob the movie, with its delightfulness conquering cynicism; one of several elements that suggest it's more than worthy of becoming a modest cult hit.
• Superbob is in cinemas now..
Review date: 16 Oct 2015
Reviewed by: Steve Bennett
Recent Reviews
What do you think?