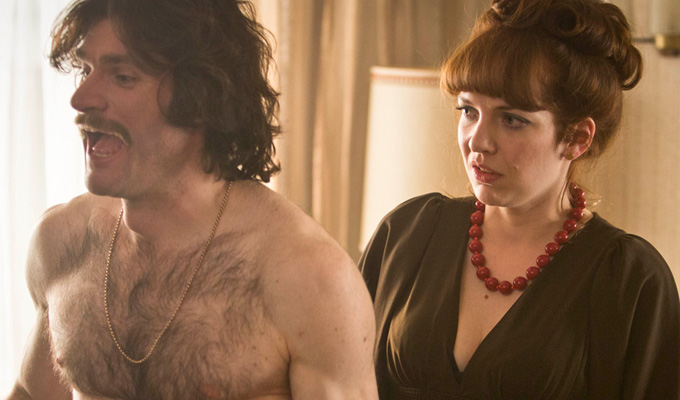 The Kennedys
Ever since the runaway success of the retro-feeling Mrs Brown's Boys, the BBC seems to be looking backwards for its mainstream sitcoms. If it's not reviving Open All Hours, it's plundering the memoirs of celebrities. Hence 1970s-set shows based on the lives of Lenny Henry, Danny Baker and now Emma Kennedy, all within the space of a month. It seems that rather than trying to define a new golden age of comedy, they are harking back to an earlier one, evoking a warm nostalgic glow among middle-aged viewers.
The Kennedys certainly contains its share of period cliches. The first shot includes a Space Hopper and a Chopper, and the camera gets to dwell on cheese and pineapple on sticks, a phone with a dial and the powder blue bathroom suite – remember them? This is a bit like the lazy 'do you remember Spangles?' stand-up trope (so fair play to Channel Four for updating their childhood celeb memoir, Caitlin Moran's Raised By Wolves, to the present day to avoid this).
Likewise, the plot is very much of its era as the family throw the very first dinner party Jessops Square, Stevenage, has ever seen. It must involve 'something posh, something we've never had before' – a lasagne. 'It's got pasta in it, and not in a tin!' says Dad Tony (Dan Skinner), while adventurous mum Brenda (Katherine Parkinson) gushes: 'It'll be like that time we thought we saw David Cassidy in Woolworth's!' Thus hitting two period references in one line.
But get over the constant knowing references, and there's charming comedy at the heart of The Kennedys thanks to it's a cast of warm, likeable characters.
Tony is probably the best example. He might be an unreconstructed man's man, only able to empathise with the tearful neighbour Jenny (Emma Pierson) by talking about the Arsenal or offering to put up some shelves, but he has a heart of gold. And some great lines, too, wanting to avoid that emotional scene he suggests he and 10-year-old Emma 'go outside and look at the concrete'. Kennedy, who wrote the script, too, has an ear for naturalistically funny dialogue in the build-up to her big set scenes of broad physical comedy.
Poor Jenny's been heartbroken – again – by her randy partner Tim (Parkinson's real-life husband Harry Peacock) in a storyline that offers some good old-fashioned farce culminating, of course, at that dinner party. And the period setting also provides a great soundtrack, as there's nothing like a glam rock hit to cover a slapstick brawl.
The core cast is completed by Clive Rowe and Shola Adewusi as another set of neighbours, David and Dee Palmer, who approach any potential racism of the age with an irrepressible laugh. The Kennedys should surely induce the same reaction in its viewers.
• The Kennedys starts on BBC One at 9.30pm tonight, directly following Jeremy Clarkson's return to the BBC, hosting Have I Got News For You
Review date: 2 Oct 2015
Reviewed by: Steve Bennett
Recent Reviews
What do you think?