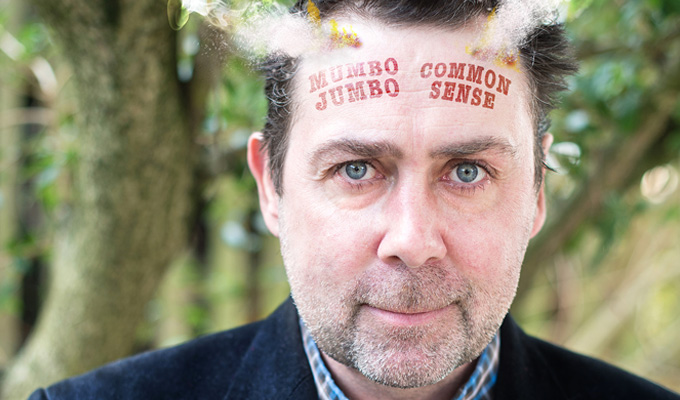 Sean Hughes: Mumbo Jumbo
Note: This review is from 2015
After a couple of heavily-themed stand-up shows, Sean Hughes returns to the stage with a more casual affair of loose stories, poems, and a bit of political musing – all of which entertains, but without feeling like an essential experience. Given that he acknowledges what a faff it is to leave the house for his demographic, that lack of 'must-see' sense of occasion might prove a handicap at the box office.
Yes, the comic who remains the youngest ever to have won a Perrier award is now pushing 50. Youth, he ponders, bristles with anticipation at the endless possibilities of life, but no longer. Now he ensures his show will be over by 9.30pm so he can watch a bit of telly before bedtime.
Hughes is far from being alone in reflecting on ageing as his bladder, eyesight and tolerance start failing. Complaining about the rigmarole of having to see a band at the O2, he sounds like any other middle-aged grump, and there's not too much comic spin added.
His audience, almost exclusively of a similar vintage, will certainly find plenty to relate to. But the fans are not plentiful; he's performing to about 50 people in Kilburn's Tricycle Theatre, which holds more than four times that number. It drains energy from what's already a subdued affair, with Hughes keeping the performance low-key, looking down as he paces the stage, idly kicking the mic cord as he goes.
The material is as unreliable as his urethra, especially in the first half where he's just shooting the breeze, releasing semi-formed ideas into the ether, but admitting he 'doesn't really give a shit' about much. He suggests a political solution that sounds a bit like Jeremy Corbyn's 'people's quantitative easing', grumbles about his psoriasis and mulls the nature of addiction, from his own love of the booze to Russell Brand flitting from drugs to sex to politics in a vain attempt to sate his appetite.
Introduced belatedly, and almost as an afterthought, the Mumbo Jumbo of the title is the devilish side of his brain, overwhelming the common sense to make him act like an idiot, at least back in his youth. There are playful stories from the day he spent pretending to be Australian, just for the craic, or about hanging out with musical heroes The Cure, but being too shit-faced to enjoy it.
He's an engaging raconteur, and his holiday stories have style. Tracking gorillas in Rwanda is inherently interesting, visiting the Clifton Suspension Bridge is less so – but in each case he puts an amusing spin on his anecdotes. The segments about Gospel stories are equally agreeable. The premise of applying modern sensibilities to the likes of the Last Supper might be more hack than sacrilegious these days, but Hughes avoids being obvious. He even has a strong, original take on Tinder, that most ubiquitous of stand-up topics.
Though it feels loose, his use of sound cues in the show suggests there's more forward planning than it would first appear, and the themes of death and decay recur. But Mumbo Jumbo lacks the tight focus – and, therefore, the impact – of his previous offerings, even if it's a diverting way of passing the time. Is that enough to pry fellow middle-aged folk from the telly, that is the question.
Review date: 30 Sep 2015
Reviewed by: Steve Bennett
Reviewed at: Tricycle Theatre
Recent Reviews
What do you think?