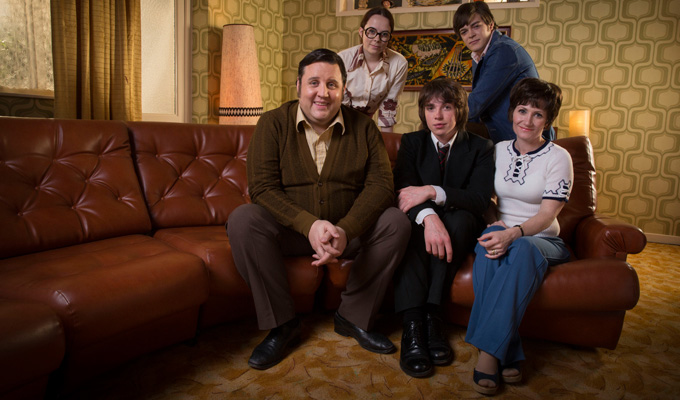 Cradle To Grave
Peter Kay involved in some 1970s nostalgia? Surely not!
His casting in Cradle To Grave, the sitcom based on Danny Baker's teenage years in Bermondsey, is probably down to star quality more than his peculiar take on the Cockney accent, but he puts in an affectionate turn as Danny's dad, 'Spud'.
A wheeler-dealer from South-East London packing his council flat with hooky gear might seem a familiar character for a sitcom, but Kay makes the brusque geezer with a heart of gold and a head for dodginess – from fiddling the electricity meter to conning the Radio Rentals man – entirely his own.
With a nice sense of period – and only the occasional gratuitous shot showing a full wall of wallpaper in all its garish glory – this opening episode is frequently funny, with an episodic structure that delivers wry character-led laughs with the regularity of a sketch show.
But that also comes at the cost of establishing a consistent tone or strong narrative. There are big visual gags from the start, but as it settles down, it's the characters that generate the laughs, such as the lads all turning up to the disco in exactly the same outfit, and all desiring the same turquoise-and-gold 'tonics' trousers that are surely the way to a girl's knickers.
Eventually the vagaries of teenage love in a chaste time emerges as an underlying theme. A defining dramatic moment at the halfway point that could turn the story into a powerful coming-of-age drama is batted away before anything too serious needs to be contemplated – with this formative incident ultimately given no more emotional heft as the smashing of a few novelty teapots.
The cast make the characters shine, particularly the empathetic Laurie Kynaston as 15-year-old Danny, and Lucy Speed, underused in episode one as long-suffering mum Bet, reduced to histrionics after stumbling across her son making out.
A sense of the conflicts at the heart of future episodes come at the end when Danny contemplates a harrowing experience he had watching the onstage nudity in Hair. 'If this was the counterculturer, give me Val Doonican,' he muses as he stands at the crossroads of social change.
Certainly music was getting better, and the show boasts a great soundtrack featuring the likes of Atomic Rooster and Led Zeppelin, not to mention the first original tracks by Squeeze's Chris Difford and Glen Tilbrook in 17 years.
All of which should lure people back to the goings-on on 1974 SE16 for subsequent episodes.
Review date: 3 Sep 2015
Reviewed by: Steve Bennett
Recent Reviews
What do you think?