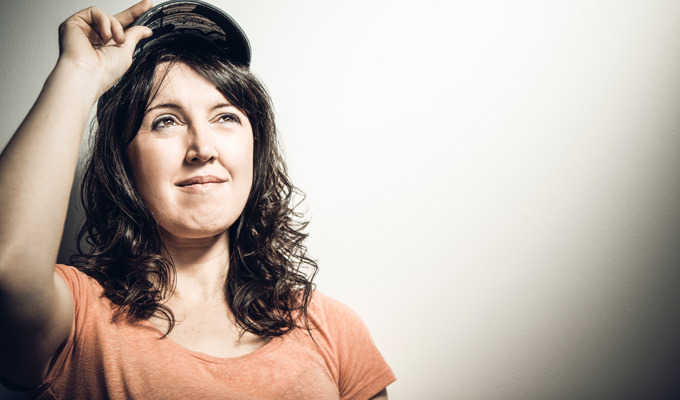 Eleanor Tiernan: Don't Cry For Me Eleanor Tiernan
Note: This review is from 2015
There's a story in Don't Cry For Me Eleanor Tiernan when she recounts appearing on a daytime TV show in Ireland, during which the subject of the horse-meat scandal arose.
Her response was that she didn't agree with the advice to go to butchers not supermarkets because the 'obscene' banter between shopkeeper and customer created an 'intimidating, sexual charged atmosphere'. It's painted as a story of the dumb presenters – and outraged viewers – not knowing a joke when they saw one… she's a comedian for Chrissakes!
The only problem comes when she shows the footage at the end, from which her comedy compass might be called into question – as it's not obviously clear that she was joking, since the comments come without context and said with utter deadpan, so sympathies slip to the poor, visibly shocked host.
Tiernan has such a low-key approach on stage, too, which her own brother describes as 'deliberately alienating paying customers who've done no wrong' – and it's brutally unforgiving of some of her weaker moments.
An example is her extended bit about her home county of Roscommon being the only one in the whole of Ireland not to return a 'yes' majority on the equal marriage referendum – a segment stoops into pat lines about it not being about homosexuality being compulsory and the reading out of comments from Twitter, which becomes dull quickly.
Yet there are plenty of engaging stories too, such as her father's close resemblance to a wanted IRA lieutenant, her mother's inability to see any of her own failings, despite being a social worker, and Tiernan's unlikely booking to play stand-up in a biker bar in the Philippines.
Tiernan also sets out several interesting theses, such as whether her obedient and studious childhood ever paid off in adult life where no intelligence is required and even supposedly permanent mistakes such as tattoos can be reversed. What technologies will make today's diligence redundant? There are some wryly funny lines, too, on feminism, the Catholic approach to sex, and a delightfully idea of Irish whimsy that things can be true without being 'trapped by fact'.
But the unexpressive delivery is a huge, soporific obstacle to enjoying even the strongest material. He commitment to employing no gimmicks might be admirable, but it's not cheating to put just a bit of emotion into what she does.
Review date: 31 Aug 2015
Reviewed by: Steve Bennett
Reviewed at: Laughing Horse @ The White Horse
Recent Reviews
What do you think?