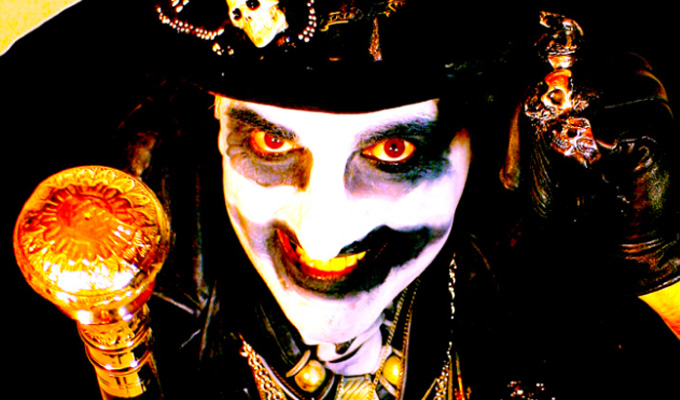 Seymour Stiffs: The Undertaker
You don't get many comedy characters with such a strong image as this.Seymour Stiffs is a cod-Dickensian undertaker with an elaborately gothic costume of black leather, chains and crucifixes; a face painted like Death itself, and grimly theatrical delivery.
A figure of the night, 'the dark provoker' entertains his macabre sensibilities in front of a coffin laden with candles, skulls and his Tubes Of Terror. If he was to conduct a black magic ceremony in place of a comedy show, you wouldn't be all that surprised.
In either case we are here to cock a snook at mortality. When the audience provide the epitaphs or funereal songs they'd want for themselves, they are all share a mordant wit. And though Stiffs' booming pronouncements of dark poetry and Shakespearean verse suggest our ultimate doom, they are undercut with with a grotesque, devilish grin and knowing wink.
While the presentation is impressive for its utter commitment, the comedy is more hit and miss. Partly that's because this is an immersive act that depends so much on audience involvement, with our grim host teasing those assembled about their corporeality, which is difficult to make fly when there's only a handful of us. And the appalling noise bleed in Cowgatehead doesn't help either, since the mood is shattered by the rock band playing elsewhere in the venue.
But the show is also underwritten, with not much of a Plan B should the participatory elements flounder, nor much in the way of narrative that would promote this intriguing caricature into someone you'd be dying to see.
Yet the larger-than-death figure with his elegant, grotesque language remains a compelling force, as impossible to avoid as the Grim Reaper himself.
Review date: 31 Aug 2015
Reviewed by: Steve Bennett
Reviewed at: Cowgatehead
What do you think?