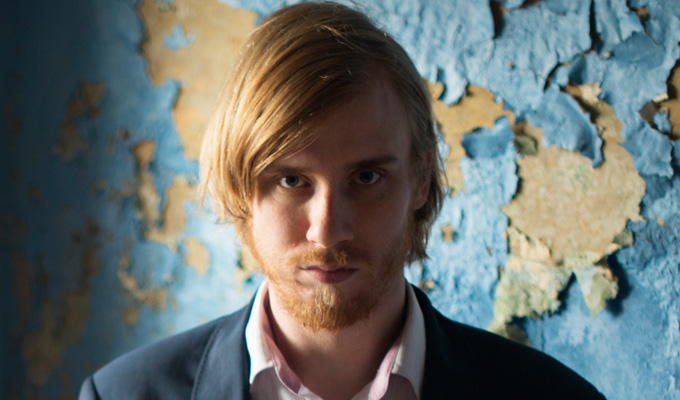 Bobby Mair: Filthy Immigrant
Note: This review is from 2015
Bobby Mair says it himself and he's right – performing at the Hive suits him. Mair's comedy swills around in dark places where bad things happen, and the Hive nightclub seems like just such a place.
Mair seems liberated and relaxed on stage. This means you get about one-third audience chat to two-thirds 'show', playing to Mair's strengths as a sort of host. It has the low-stakes feel of a work-in-progress show, even though he has a script of jokes to get through. Some of the funniest moments from when I tuned in on Friday (via Periscope, after a failure of the live feed of a show earlier this Fringe) was his interaction with a mechanic who interrupted, and a woman who had a fit of giggles.
The material is a mixed bag but more strong than weak. Mair has some quality jokes on how Uber could contribute to society in lieu of paying taxes, and his friend who claims to be the opposite of a woman wearing a burqa. His (relatively) long stories on reporting people's photos on Facebook, and his emotional blackmail of a friend who smokes, are funny and pleasingly devious.
His pieces on adopting an old lady, and the loophole he's found in 'guide dogs admitted' signs, show he's got a knack for a unique comic observation.
If anything it's Mair's trademark dark or gross material that doesn't cut it for me, like his jokes on dropping coke in some piss, or the woman clipping her nails on the train. Perhaps it's this material that is more instinctive and guttural to Mair, and therefore hasn't had as much intervention from his genuinely smart comic brain, but they seem throwaway and indulgent, tailing off before they've been developed.
Mair's easy-come-easy-go attitude is that of a comic who knows what he's doing, and Filthy Immigrant certainly zips by quicker than most shows, which is a good sign. Mair doesn't seem like the most careerist of comics, and takes things at his own pace, but even so, this still feels like a slightly unambitious show for a comedian of his profile and talents.
Review date: 29 Aug 2015
Reviewed by: Paul Fleckney
Reviewed at: The Hive
Recent Reviews
What do you think?