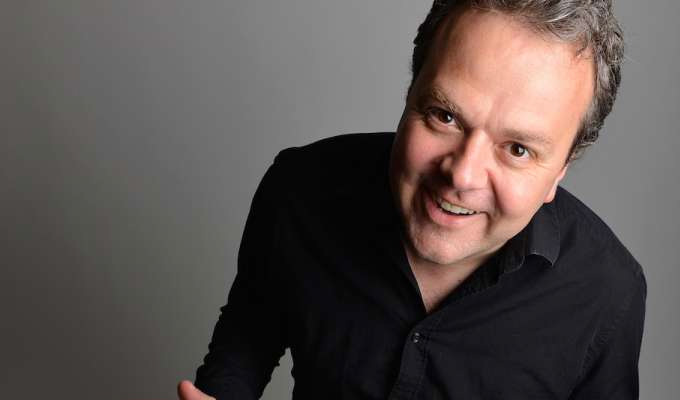 Hal Cruttenden: Straight Outta Cruttenden
Note: This review is from 2015
Hal Cruttenden is on a mission to prove that he's an angry, politicised comedian, even if you would never think it from his camp, smiley demeanour. He fails, of course, ending the hour as the same cheery upwardly-mobile chap who started it. The strength of his ingrained English repression proves too strong to overcome, but he has some sport trying.
He gets in some quite snippy lines, starting with some bold pricking of national pride right from at the start… though any contention from the SNP supporters is quickly diffused with a fey, 'Oooh, don't' and limp swoosh of the arm.
Cruttenden's long enough in this game to absolutely knows how he comes across, much as it might have put the kibosh on his desire to be a Hollywood leading man, with his recreation of some of cinema's most macho lines in his voice proving a delight. Yet he's also got a story of being caught in an armed siege … how many of comedy's bad boys can claim that?
His problem with not being taken seriously isn't just about his stand-up – it extends to his children, too, giving him zero respect and prompting comparisons with the reverence his omnipotent father commanded. It's the way society is going, and Cruttenden widens out his observations to specifics such as mawkish Facebook tributes and the more universal, such as the arrogance of Katie Hopkins claiming to be 'Saying what we're all thinking' or middle-class concerns about getting his kids into the right school,
Cruttenden has some educational privilege of his own (oh, really?!), attending the same posh school as Gideon Osborn, or George to give him his adopted human name. Yet for all the comedian's haughty aims, he admits to ultimately being something of a shallow Hal, with very everyday concerns.
Thus it's an hour of relatable, Middle England observations, perfect for Michael McIntyre fans who can't afford his ticket prices (given that the professional classes being squeezed as much as anyone else outside the top tier), but with a bit of extra bite.
Cruttenden's delivery, though theatrical, seems effortless, playing cheekily with the audience as he weaves in and out of his arguments. Although tonight he got confused with some crowd work, muddling the relationships in the front row, but he can mine his gaffes for laughs, too.
Oh, and look out for a great Milton Jones impersonation, a subject so far shockingly ignored by the nation's impressionists…
Review date: 24 Aug 2015
Reviewed by: Steve Bennett
Reviewed at: Pleasance Courtyard
Recent Reviews
What do you think?