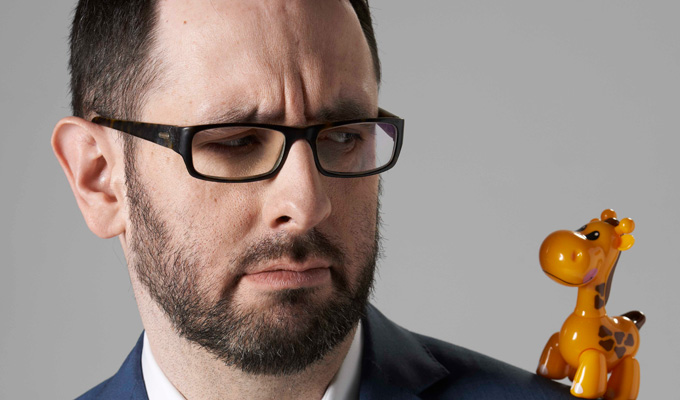 Steve Hall: Zebra
With the rest of his We Are Klang compadres, Steve Hall was once one of the biggest draws on the Fringe. Today he has seven people in the audience… and not one of us has paid for a ticket.
Although he draws attention to the fact, and is wryly amused about it, he doesn't let it faze him, accepting that being away from Edinburgh for four years is an aeon in Fringe time. He has to re-establish himself once more, and Zebra serves as a pleasing reintroduction to his abilities.
His absence has partly been explained by him supporting Russell Howard on tour, and partly by the birth of his daughter Polly 13 months ago. And despite his insistence that 'I've not written a "new dad" show', that's exactly what he's done; reappraising his life and his relationship with his father – showing us pictures of his cute girl and of a particularly memorable day from his own childhood.
It's largely a touching story of family from a well-mannered comic, which avoids being over sentimental. There a bit of 'blue', plus stories from his pre-parenthood days about his realisation that he had become dependent on booze, including one about figuring out just what he'd ended up in bed with after a heavy night that certainly upturns expectations.
But overall, it's a charming, sweet show that's warmly satisfying, if not prompting massive highs of hilarity (but then again, there were just seven of us). The closest is the revelation of a painting he had commissioned to remember a special day out he had with his father, intended as a treasured memento but turning out to be the stuff of nightmares, and he revels in every hideous detail.
Hall's a smart, observant writer of stories, so even if by his own admission his delivery can be a little monotonous, the content keeps us engaged.
The title, incidentally, is based on his mother's obscure saying: 'If you hear hooves, expect horses, not zebras,' which apparently means not to fear the worst as it's unlikely to happen. Though who wouldn't rather see a zebra than a horse?
Review date: 24 Aug 2015
Reviewed by: Steve Bennett
Reviewed at: Stand 5 and 6
Recent Reviews
What do you think?