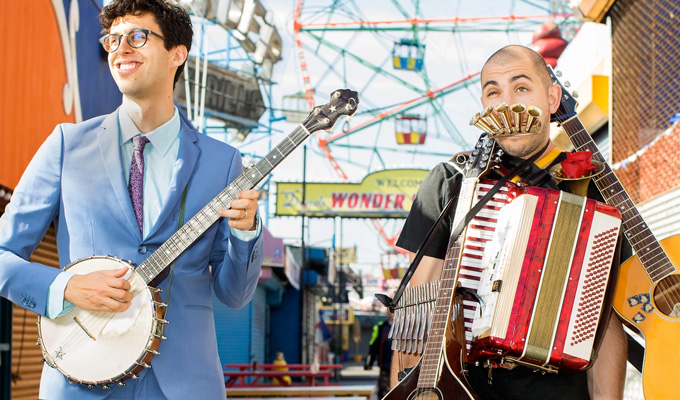 The Gideon & Hubcap Show
If there was an Edinburgh prize for 'show with the most hipster sensibilities' – as there surely one day will, given that there's an award for everything else – Gideon & Hubcap would be a shoe-in.
Their corner of the room, illuminated with fairy lights, is littered with quirky props and the obsolete wood-encased musical instruments required for their brand of 'stove-top' vaudevillian folk. Their venue may be a glorified Portakabin, but it's positively corporate compared to what they are used to: travelling the world playing in people's front rooms, evoking the romantic notion of wandering hobo minstrels. Gideon Irving has the road-beaten look, too, while Hubcap is more straight-laced.
Even in this setting, these modern American troubadours deliver with the comely intimacy that their original approach has taught them, singing in tight harmonies and telling campfire stories of some of their escapades.
But that doesn't mean the show is without its more theatrical elements; such as the nicely peculiar lecture that Hubcap (Nate Sloan to his mum and a bona fide musicologist) delivers, or the fast-escalating row that brings all the tensions of being in a band to a head. There's a lovely bit of physical comedy as a track singing the praises of old-fashioned phone calls over texting takes a strange turn, while the most directly funny sections involve jingles for their sponsors, Johnson's Edible Bugs.
The show's in the cabaret section rather than the comedy one; so the jokes could be seen just as a bonus; but a dry humour is woven into the fabric of their work. Some of the more obvious attempts to milk the fashionable alternative vibe – such as the tongue-in-cheek origami worry-birds – can feel a bit like fey hokum; but on the whole they get the warm tone right.
No wonder there's a long queue after the show of people inviting this charismatic duo to come to their front rooms.
Review date: 23 Aug 2015
Reviewed by:
Reviewed at: Underbelly George Square
Recent Reviews
What do you think?