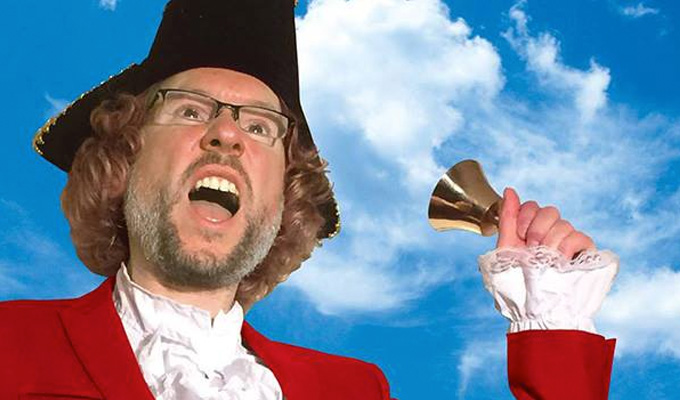 James Christopher's Annual Cry For Help
Note: This review is from 2015
Where to start? Two shows in one with almost nothing to commend either of them.
James Christopher first performs what he says is his sixth Edinburgh show with all the skills of someone who's been on the circuit for ten minutes. Then he's joined by his partner Maxie Wade for The Walk Out Show, which struggles even to hit its aim of being offensive, let alone funny.
Christopher's stock-in-trade is puns, but really clunky ones. 'My mum doesn't like fried chicken but my Nan does' is the standard. Mind you that's positively genius compared to his crowd interaction.
'What do you do?'
'I'm a student..'
'And what do you study?'
'Physics.'
'That must be erm, umm, errr…'
'Difficult?' offers another punter.
'Yeh, that must be really difficult. Anyway have you been to Glastonbury?'
…and so on to the festival joke. It really is dismal stuff, yet his CV says he has been an act and a compere for a decade.
Always beaming with a toothy smile, this Yorkshireman gets some laughs from commenting on how bad his jokes are, but self-deprecation only goes so far –especially when we agree with him.
Then he's joined by Wade for their show billed as 'violent, offensive and sexy.' Their first joke in this format involves a drawing of a cock and balls. Take that bourgeois values! And the c-bomb, but it's censored. This definitely does not live up to its billing.
The interactions between them have all the free-flowing chemistry of a Keith Harris and Orville dialogue, as she says something simple minded and naive and he repeats it. It's all pretty lame, and acting is not a forte, or even an ability for either of them.
We have to boo pictures of celebrities because they are awful: Piers Morgan, Nigel Farage. The joke being that Nelson Mandela is there because he hung out with the Spice Girls. That's really as offensive - and inventive - as it gets.
All that just scrapes it above a one-star review is a closing 'feminist burlesque dance' from Wade, which might still be a bit cheap, but is at least performed with some absurdist verve, hitherto unseen is this very missable show.
Review date: 21 Aug 2015
Reviewed by: Steve Bennett
Reviewed at: PBH's Free Fringe @ Banshee Labyrinth
Recent Reviews
What do you think?