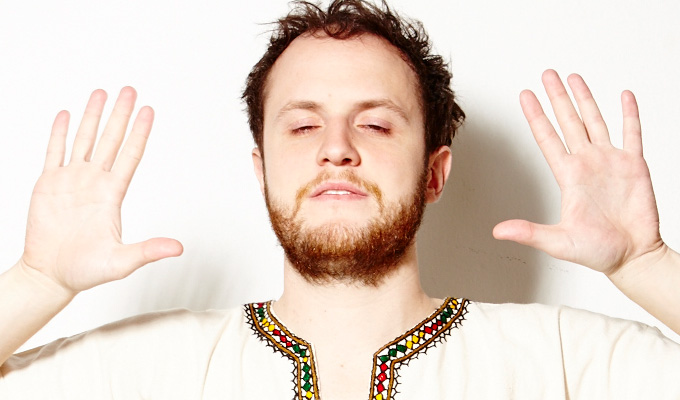 Jack Barry: This Title Came To Me In A Dream
Note: This review is from 2015
Jack Barry's day job running the social media accounts of a leading fast food company does not sound a particularly strong basis for an hour of stand-up. Yet it turns out to be a more-than serviceable framework, as he takes the customer complaints as a jumping-off point for various tangential ideas.
Those who get in touch are often not the sharpest spork in the bucket, complaining that a bad bit of chicken is an 'atrocity' - thus illustrating the self-centred entitlement of a generation which has lost perspective - or complaining about the halal option- thus illustrating themselves to be a racist dick. And in each case the writer's stupidity is nicely exposed.
It's not, of course, the subjects that make a show but a comic's approach to them, and Barry has a quirky way of expressing himself, even if the seeds of the ideas can be straightforward. His repeated cry is of 'stay with me guys..' as a peculiar thought is put into context. The routines are a mix of the slightly odd, such as dogs used for medical diagnosis, and more typical stand-up fare, such as an ikky slapstick description of childbirth.
He has a distinctive voice quite literally too, a seeming on the verge of breaking and punctuated with an almost metallic chuckle. And he laughs at his own material quite a lot, clearly having fun.
Some of the sections later on seem to be a little longer than they need be – such as a child's letter in need of a stronger payoff – not exactly padding, but it seems as if he's got JUST enough for his debut show and not a minute more to condense down.
He has one final unusual topic up his sleeve, as he speaks Chinese - though whenever he demonstrates, he's accused of racism, which is an interesting discussion to be had about 'political correctness', if not laugh out loud. And I'd quite like to hear more about his time in the Far East.
Barry's debut is a flag in the sand, staking out a claim to be a comic worth paying attention to, without hitting the killer hour which would insist on that status. A more 'three-star' show you probably couldn't find...
Review date: 19 Aug 2015
Reviewed by: Steve Bennett
Reviewed at: Pleasance Courtyard
Recent Reviews
What do you think?