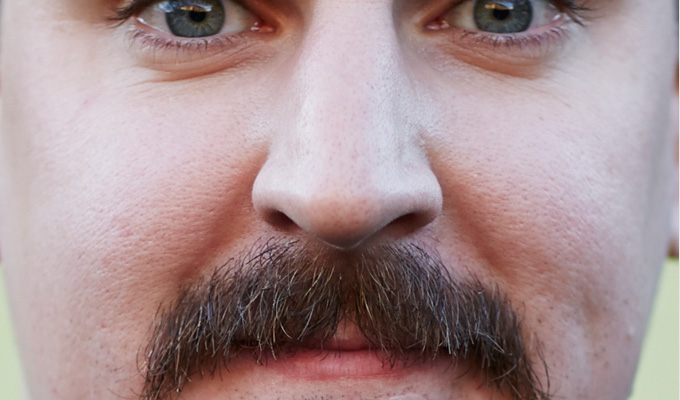 Ali Brice presents: Eric Meat Has No Proof, Only Memories of Pasta
Note: This review is from 2015
The smaller room at The Hive really is becoming the spiritual home of lunacy. I've seen Candy Gigi, Spencer Jones and Michael Brunstrom in this room; while Pat Cahill and Beth Vyse are also there. All different shades of lunatic, and you can add Ali Brice to that list.
It doesn't start off especially barking, but by the end it's like feeding time at the kennel. Ali Brice's character, Eric Meat, is, initially, like a less demented Count Arthur Strong, with a warm and cuddly feel to him. Poor old Meat has lost his wife. It's pretty obvious where she's gone, but Meat is hiring a detective to find her supposed kidnapper.
With the help of the detective and a helper from the crowd, they go about their search. At this point there's no looking back, with Brice utterly committed to delivering unthreatening, absurd humour. He introduces other characters to this mix, including the eccentric apple seller who's the pick of the bunch. Stella's bellowing of her theme tune is memorably funny, and the tune itself is genuinely a cracking little song (I wasn't expecting that).
The show works mainly on the force of Brice's personality, and the goodwill he builds up with the audience, which he has earned through sheer likability and some good interaction at the start. It does mask some slightly weak writing, I think. Many of the jokes seem to fall in between being properly absurd and proper jokes.
There was something of an abrupt finish, but better to quit while you're ahead, which Brice clearly was by that point. At the moment there's no shortage of out-there comedy that forces craziness down the audience's throat. Brice is a handy exponent of this messy art form.
Review date: 19 Aug 2015
Reviewed by: Paul Fleckney
Reviewed at: Heroes @ The Hive
Recent Reviews
What do you think?