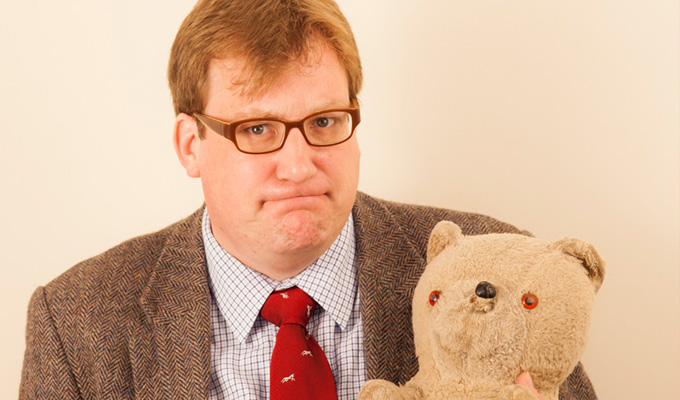 Andrew Watts: How To Build A Chap
Note: This review is from 2015
Andrew Watts is pleased to have carved out a niche for himself in comedy, a tweedy mix of cricket, economic theory and very English social awkwardness. However, this year his topic couldn't be more mainstream: parenting.
As the father of an 18-month-old, he finds himself plunged into a mire of conflicting, militant advice from inflexible, judgemental experts all of whom insist they are right, with any deviation from their scripture sure to wreck his son's life irreversibly. Or Mumsnet as it is known. Add in the myriad books Watts has read – he's definitely a book-learning type – and you have one very bamboozled dad, who brilliantly expresses his befuddlement about the mysterious quasi-religious rituals of child-rearing.
'There is no more sombre enemy of good art than the pram in the hall,' the critic Cyril Connolly famously said – but that's not true of Watts, who has found inspiration in the countless new experiences Watts Jr has bought. Though the comic did have to flee to New Zealand for a month to actually write the show, away from the demands of nappy-changing.
He delivers a dense script at frenetic pace, forever grasping and releasing the mic stand or throwing back his Boris Johnson hair, which adds to his appeal as an excitable duffer. It's a persona which allows savvy material to be smuggled behind a self-effacing charm.
So the hour zips by and pulls all matter of subjects in its gravitational field; from the feminism which he discussed in last year's show; English Test cricketers; the Freakonomics theory of why some children achieve more than others; his dating record, pre-wife, that could generously be termed patchy. This latter allows him to include his old standard about kisses on the end of emails, a lovely example of comic exaggeration even if it has been in his set forever. It's probably become his Satisfaction by now, the bit his fans demand.
But it's in service of his main narrative about the conflicting pressures on parents and the poor quality of all manner of life-lessons doled out online, usually aimed at hapless folk like him. But eventually – with the inspiration of his own upbringing – comes to his own conclusions and excited by the journey on which he's just embarked. It's an inspirational note on which to end without being in the least cheesy.
Review date: 17 Aug 2015
Reviewed by: Steve Bennett
Reviewed at: Laughing Horse @ The Counting House
What do you think?