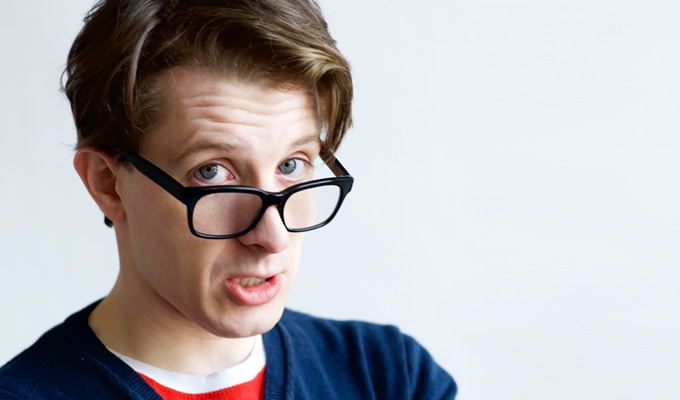 James Veitch: Genius Bar
Note: This review is from 2015
James Vetch is not a man short of talent. There's something of a natural comedian in his delivery and his manner. He's a former Apple Genius, he's a handy piano player, he sees the comic potential all around him. He's also got some pretty funny stuff up his sleeve – some funny photos, footage of his selfie-obsessed neighbour, a self-made music video…
But as a show, it's a bit of a mess. The trouble is, he seems so keen to cram all this into show, he's ended up with an over-loaded and over-complicated hour. It's as if he's been told he has one show, and one show only, to give us everything funny he has or can think of. Just, get it in there. If there were some sort of Crowbar Award for tenuous links and spurious leaps to get the comic where they need to go, this would be well in the running. 'Perhaps we all have our own individual melodies,' was one such baffling leap, which segued him into staring at individuals in the audience and improvising a tune on the piano, for reasons unknown. As if there's not enough going on already, Veitch is also trying to inject some pathos into proceedings. So all in all, a big ask.
It starts out straightforward enough. Essentially it's a break-up show, and the concept seems simple: as an Apple Genius he could fix a broken iPhone, so could he fix his broken relationship using the same six-step procedure he was taught Chez Jobs?
Sounds solid enough, but those six steps are vague terms like 'run scenarios' and 'stress tests', and it's a bit of a jump when Veitch applies them to his own love life.
The end result is that there are flare-ups of funny stuff – his winding up of strangers by email for example (whether or not Veitch is aware of The Timewaster Letters I don't know, but it's essentially the same joke), and his material about his online dating profile.
Veitch is certainly capable of a good comedy show. His debut show in 2014 was clear and uncluttered, and all the funnier for it. This year it seems he's bitten off more than he can chew, and has probably blown some good material he could have used in future shows. However, he does still have that something about him, and I fully expect a return to form.
Review date: 16 Aug 2015
Reviewed by: Paul Fleckney
Reviewed at: Pleasance Courtyard
What do you think?