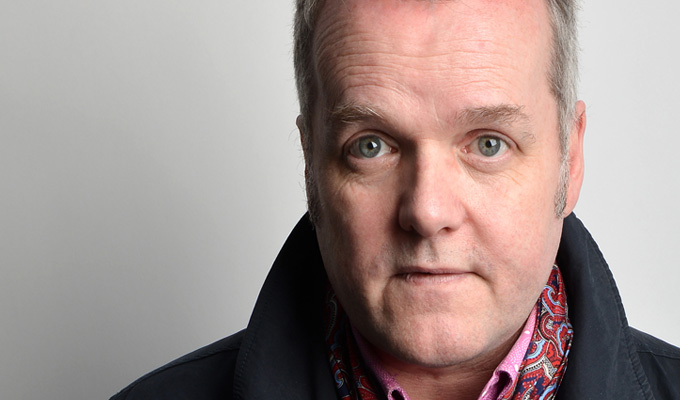 Kevin Day: Hairline
This was a thoroughly enjoyable, relaxed hour. Kevin Day writes with tiny subtleties and gives a pared-down performance which would fit neatly into a Photo Booth, but still succeeds in compelling an audience in a hot room for an hour. There was no gurning, no hyperbolic theatricality, he was more modest on stage than I have come to expect from any comedian, but best of all he was bloody funny.
His style is personal and confidential, treating the audience like co-conspirators as his stories unfold. I like that he wears his heart on his sleeve, telling personal stories about his wife (recapping a bit from last year's show), his South London Irish roots, his marvellous mum and her widower. This isn't about crossing continents and scaling heights, it's finding warmth and decency and tenderness and respect in your family, in your politics and among your friends.
He's touching but unsentimental and he comments on the show even as he performs it, on the audience, on the nature of gag writing, on traditional comedy tropes.
He was hilarious on his other career strand as a football pundit and the intellectually challenged Jamie Redknapp, but there's not a breath of meanness about him. He draws the audience into his world and he achieves that magical effect whereby the listener feels like they know him and what he stands for (The NHS, the Labour party, gratitude, Hurrah! Unfairness, the Royal Family, hair loss, Boo!)
This is first-class stand-up without pyrotechnics and is utterly engaging, feelgood comedy. His mastery of comic technique is a joyful lesson for anyone aspiring to write stand-up, and in his own very British style, apparently simple, unflashy and very funny.
If you're looking for a solid Fringe hour of gags and stories without any gimmicks or longeurs, look no further.
Review date: 15 Aug 2015
Reviewed by: Julia Chamberlain
Reviewed at: Gilded Balloon
Recent Reviews
What do you think?