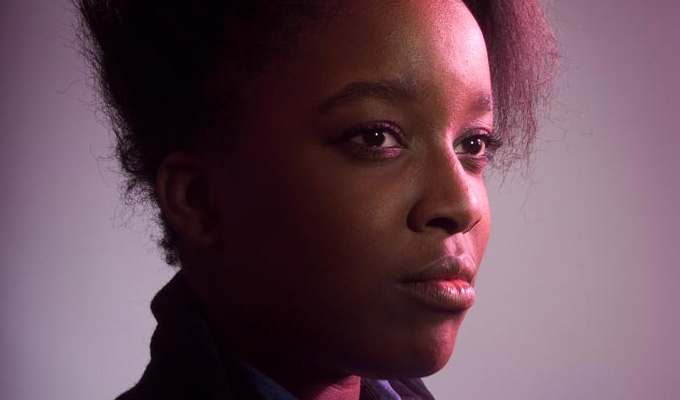 Lolly
Note: This review is from 2015
Already pretty hotly tipped, Lolly Adefope's Fringe calling card comes in the form of a character comedy showcase, set at a community centre's local open mic talent competition.
Each performer on the bill is a credible, subtly-drawn creation, with notable quirks, but not exaggerated into the realms of caricature. Chances are you might know someone a bit like this.
Prime candidate is our host, the Brummie Wendy Park, just a little too keen to be the centre of attention, exaggerating her importance. She insists you be impressed at her nodding acquaintances with the stars from her long career in TV and film… as a coffee-fetching runner.
The old boy 'Horrold' is less memorable, while stand-up cliches are mocked with a brace of skits. The kookie newbie Gemma, the 'mad one' of her friends, encouraged to go on stage and excitedly gush out all her mates' embarrassing problems, and X – a political comic who refuses to be defined by name or gender, and refuses to be brainwashed by reading the mainstream media. Or reading anything else for that matter, giving rise to some charmingly misinformed quotes, delivered with conviction.
Such slight absurdity is what Adefope does best. The sponsors' messages between acts are especially inventive, with some very sly touches – just having a business with a blueyonder email address is a delightful touch.
Yet in some way the tried-and-tested format of a parade of subtly-drawn creations seems a little too straightforward for a woman who clearly thinks at a sharp tangent. This essentially linear parade of characters necessarily subdues Adefope's own personality, which seems worthy of more exposure.
In fact there *is* a 'character' called Lolly Adefope in the show, a nervous stand-up who bombs on stage and gives a glimpse into the more peculiar directions she's capable. Backstage the Lolly persona is heard complaining that the audience gave her a rough ride because she's a black female comic. 'We're all black,' says one of the other voices… Well, duh! It's the only mention of her ethnicity, even though Adefope is, shockingly, probably the first black female character comic to get any attention since Jocelyn Jee Esien more than a dozen years ago.
Adefope is far more impish and charismatic than the dry 'heightened version' of herself she presents – and has a good singing voice too. If she can build on this very promising, but slightly-too-safe debut, great things should await.
Review date: 14 Aug 2015
Reviewed by: Steve Bennett
Reviewed at: Pleasance Courtyard
Recent Reviews
What do you think?