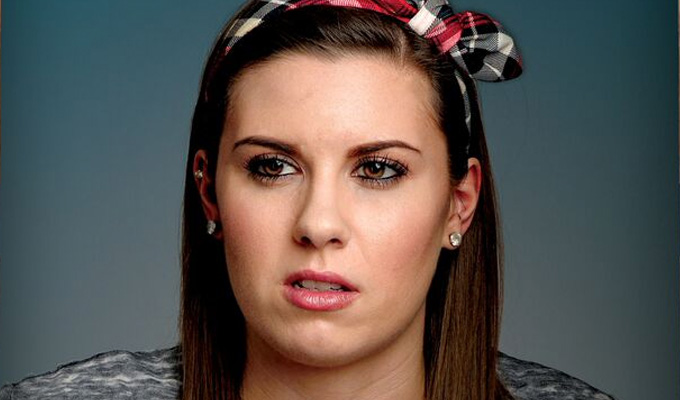 Sarah Callaghan: Elephant
Note: This review is from 2015
This is absolutely what Edinburgh's all about… inspiring a comic who's been doing decent work on the circuit for a few years to to burst up to the next level with an assured, witty hour of authentic comedy that absolutely defines her as a person and as a stand-up.
Somehow, in just 12 months, Sarah Callaghan gone from a so-so 45 minutes to a powerhouse hour. She says she's ambitious and prepared to work to achieve things, and, man, has that paid off.
Her motivation is to escape her destiny of what might otherwise be a dead-end life in Uxbridge; trapped in a 3m by 5m bedroom under the Heathrow flightpath, a broken curtain rail a talisman for her broken life. And if it sounds like a prison cell, the analogy is very deliberate.
She's evocative in summing up where she's from, whether in describing her own experiences or mocking those who don't want to see beyond the limited horizons circumstances seem to impose. Walls can be broken down, she argues, but not with any sort of pomposity in delivering a laboured 'message' - that would be anathema to her refreshing down-to-earth appeal.
She's an utter natural on stage, triumphant when delivering a quick jab of a cheesy pun, engaging when telling a story. She plays with the audience delightfully, the right level of teasing and mocking. Just a bite of her lip can express her amused distain for a larger-than-life punter's odd comment that she's stopping herself from pouncing on. It radiates confidence.
Her background has given her a hard-edged wit to underpin that chatty style. 'Rough diamond' is probably the best way to describe her; brutally blunt if needs be, but charming with it – and with material that's been as fussed over as her pristine trainers, every millimetre polished.
There are a couple snags with the show: some of the sections don't join up together especially smoothly, the elephant theme is more burden than asset, and a couple of jokes a bit cheesy. But they're mainly structural snafus, nothing to dim her sharp, no-nonsense approach.
To remember she's just 24 makes this full debut all the more impressive, suggesting a world of possibilities for what she can achieve in the future. She might even be able to get that curtain rail fixed.
Review date: 14 Aug 2015
Reviewed by: Steve Bennett
Reviewed at: Pleasance Courtyard
Recent Reviews
What do you think?