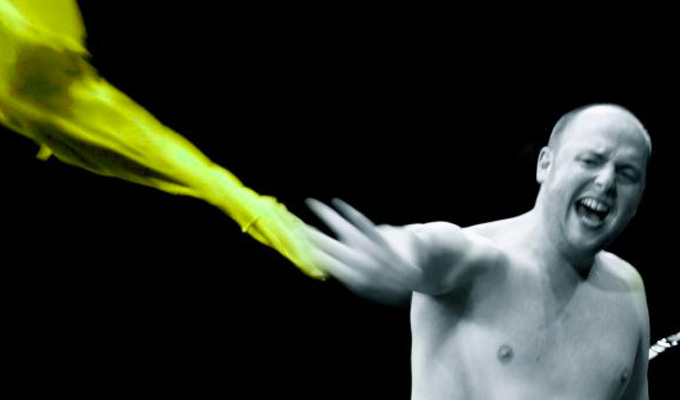 Tom Parry: Yellow T-Shirt
Note: This review is from 2015
They say write to your passions – and of all the weighty and personal topics being addressed at the Fringe, Tom Parry has gone for, erm, fancy dress.
But if anyone can enthuse an audience on any topic, it's the loudest and most foolish of all the loud and foolish comics in sketch trio Pappy's, And indeed Yellow T-Shirt is a thoroughly joyous romp.
He puts so much energy into his performance that he's like Nick Helm on happy pills. And although Parry could coast on effervescent dumb charm alone, a lot of industry has gone into the construction of the show. Knowing he has a solid foundation – five jokes and six ideas to be precise, he quips – gives him a confidence to keep things loose. He feels he has to hand out his set list to the audience, to keep him on track lest he gets carried away on his own enthusiasm, an ever-present danger.
Let's add to his credit ledger his love of the language, and surely his his adoption of the slang 'chirpsing', one step below flirting, should catch on, since it's easily one of the best neologisms at this Fringe comedy spree.
Parry opens the show as a preposterously exaggerated version of Stereophonics lead singer Kelly Jones – showing a lot more verve than the gravel-voiced rocker displays on his recent tour – before coming on as his ever-beaming self. Then he celebrates the do-it-yourself spirit of the best fancy dressers, compared to the scant commitment of those who would hire a professional outfit, as well as the confidence of those (like himself) who do not care what others think when you travel to a party dressed as Optimus Prime or the Berlin Wall.
Fancy dress is clearly a disguise… a disguise for this show's wider discussion of positivity, creativity and individuality, illustrated by Parry's litany of anecdotes, in which he's always proud to be the idiot in the costume. And idiot he most certainly is.
Corny jokes, lively banter and some exuberant set pieces ensure the hour bundles along on a powerful tide of good humour almost guaranteed to make you feel good.There's a word for the sort of people who don't leave the show uplifted on a bubble of his joy: Hirers…
Review date: 14 Aug 2015
Reviewed by: Steve Bennett
Reviewed at: Just The Tonic at The Tron
What do you think?