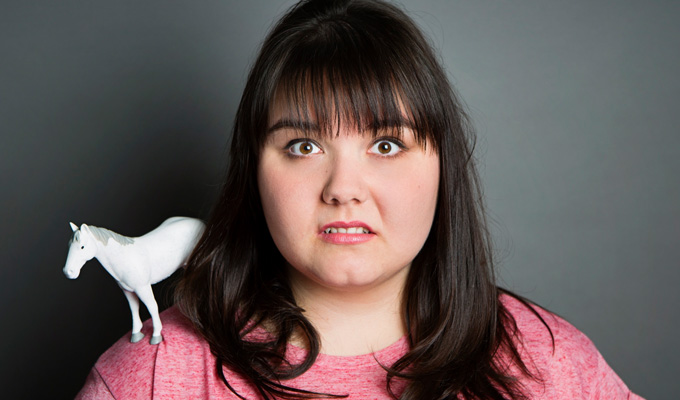 Sofie Hagen: Bubblewrap
Note: This review is from 2015
Sofie Hagen has quite some pedigree as a newish comic, with the Laughing Horse New Act competition and Chortle Best Newcomer award under her belt. But whenever I saw her, impressive though she was, it always seemed to be the same material about her weight and 'chubby chasers'. Consequently I always had a question mark about her potential. Was this slow turnover of material a sign that she didn't have what it took?
Well, it shows how much I know. Hagen's debut hour is fantastic. It's consistently funny, personal, and a slyly powerful show about a young woman overcoming her negative body image, with a little help from Westlife along the way.
A large chunk of the show is given over to her devotion to Westlife (it is relevant to the wider point), and Hagen finds a lot of comedy mileage in it. She takes us through the lows (Brian leaving, Sofie dialling random numbers in Ireland from her native Denmark in case one of the lads picks up), to the highs (becoming a mini celebrity among the Westlife fans community).
An obvious highlight is the Westlife fan fiction that she wrote as a 13-year-old. To read it out loud during is admittedly comedic low-hanging fruit, but still, she does it very nicely, contributing some self-deprecating annotations.
She's a modest performer, drawing you in to listen rather than coming out and grabbing you, but the material is strong enough to do all the heavy-lifting. She knows when to be punchy, when to quicken up and sit tight, and all with the minimum of fuss.
Combine this with her warm, friendly demeanour and it's a helluva combo. About the only sign of her inexperience is being a little heavy-handed with a few of the call-backs, but I had to scrabble around for that one.
You come out with such a strong sense of who Hagen is, and there's no one else who could have performed this show other than her. So many debut shows are about the comic's own idiocy and/or insecurities – nothing wrong with that – but few are as well developed or funny as this. One of the first things Hagen brings up is her competitive streak, and this certainly is the show of a winner.
Review date: 13 Aug 2015
Reviewed by: Paul Fleckney
Reviewed at: Liquid Room Annexe