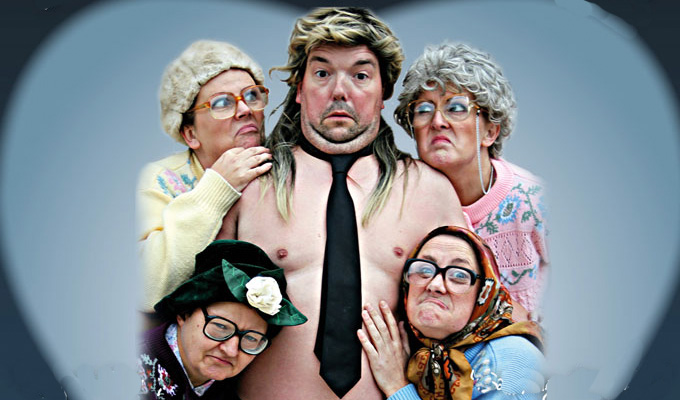 Fifty Shades Of Fizzog
Note: This review is from 2015
Imagine if Mrs Brown's Boys had cousins from the Black Country. Now add a dollop of Benny Hill and you have Fifty Shades of Fizzog: a character-driven sketch show with, oddly, only three sketches in it.
The comedy element is largely physical, performed energetically by the cast through a selection of stereotypes such as stressed band managers, jilted revenge-seeking wives, and snotty schoolkids. It's clear from the offset that the actors revel in taking those stereotypes and doing something outrageous with them – the grumbling grannies in particular, behaving lewdly and dancing to Gangnam Style at a beach party, is one of the highlights of the show.
Rather than pretend the audience isn't there the group occasionally include them in their conversations, which makes the scripted dialogue appear less staged and the audience feel more involved. It also helps to deal with any random hecklers – in the school 'show and tell' sketch the mouthy audience members became the 'parents', giving the actors carte blanche to insult them back in childlike fashion by stamping their feet and shouting in their face.
The strength of the acting carries the production, as it is wanting in its direction. Its structure is more like a three act play than a sketch show without continuity or meaning, and focuses primarily on how rude it can be within the 14-plus age limit – cue a Rampant Rabbit and some brief nudity with a well-placed beach towel. The breaks between the sketches are overly long (due no doubt to costume changes), and the constant movement of props from the backstage area to the stage felt like the actors were playing for time.
Oddly, the introduction of the only male performer occurs nearly halfway through the show. Having already established the rapport with the three leading ladies it seems strange to have another actor thrown in; it's almost as though the group are emphasising that they do welcome other genders. To his credit he tries hard to make up lost time with the audience by encouraging them to clap along with his silly antics, but he feels more like an extra brought in at the last moment to than an established member of the troupe.
Given the obvious talent this group has it seems a shame to only perform three loosely-themed sketches, but this offering of tomfoolery never fails to get laughs.
Review date: 10 Aug 2015
Reviewed by: Helen Ackrill
Reviewed at: TheSpace @ Niddry St
Recent Reviews
What do you think?