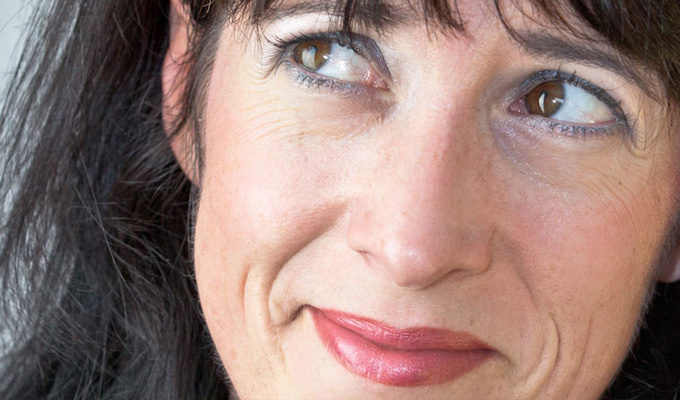 Sally-Anne Hayward: Something Old, Something New, Nothing Borrowed, Quite A Lot Blue
Note: This review is from 2015
Her all-girl school has taught her well – not necessarily educationally, but in the art of bitching. For behind her jolly, gregarious exterior Sally-Anne Hayward conceals a dagger-like wit that can cut deep, should she choose to deploy it.
The talent has been honed in the clubs: the ability to mix jaunty, get-the-crowd-on-board badinage with the occasional pointed comment, laughed off but sending a clear message of who's in charge. She can be surprisingly naughty with her punchlines, too, a bit of blue at odds with her jaunty middle-England accent.
She starts strong, with an irresistible barrage of these sort of gags, reassuring us we're in for an hour of executive-quality stand-up, before speaking a bit more about herself: that schooling, the peculiar whimsy of her fellow Bristol residents, her love of yoga…
The show then becomes a series of short stand-up segments very loosely pegged to the clothesline of 'things that make me happy', from Aldi to Glastonbury–  yet somehow also covering her distain for Morris dancers, that time she was a temp secretary, and the difference between stag nights and hen dos.
It's all solid club stuff, but what's missing is a greater purpose; not so pretentious critics can talk seriously about messages and themes, but to give the audience a reason to stay engaged over an extended set. It's a common complaint but tenuously connected jokes are exponentially harder to sustain for an hour compared to 20 minutes.
Nonetheless, strong gags pepper her work right through to the end – there's a graphic yet beautiful description of how she got turned on by the wealth of a date that's a special treat – ensuring an hour of pro stand-up guaranteed to entertain.
Review date: 9 Aug 2015
Reviewed by: Steve Bennett
Reviewed at: PBH's Free Fringe @ Canons' Gait