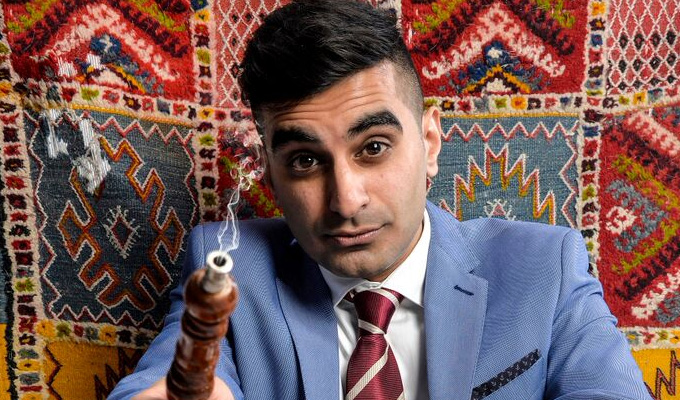 Tez Ilyas: TEZ Talks
Note: This review is from 2015
Now this is just playing into the negative stereotypes. The premise of Tez Ilyas's debut is that the entire audience is being converted to Islam… and wouldn't you know it, by the end we're all detonating explosives.
But stand down, MI5. These are party poppers – the perfect symbol of Ilyas's celebratory tone. And, let's face it, of his slight campness.
He proves a genial host through this guide to being a modern British Muslim, using potent political and social points only sparingly, providing gently seasoning rather than overpowering his innate good humour and upbeat positivity.
As we in the audience are on the threshold of conversion, we are given ten commandments about how our new faith is relevant to UK life. We must uphold British values, any vagueness about which Teresa May will quash by defining them in edict, not be a terrorist (tricky stuff, this) and of course, engage in jihad. Which, as hopefully most of a savvy liberal arts festival crowd knows, means a struggle for improvement more than waging holy war.
Ilyas maintains a jolly, self-effacing 'c'mon guys!' approach to all this, although because he's on a mission to educate as much as entertain, he sometimes neglects the gags and relies on his charm to get a message across. Yet there are plenty of witty asides too. I for one hope OMA! catches on as an alternative to OMG!
He gets impassioned, even a touch emotional, during his serious segment at the end, making a powerful point about Muslims being urged to integrate into a society that seems increasingly hostile to their very existence, fuelled by media coverage that's little more than thinly-veiled racism. Though I'd lose the dramatic lighting change, the heartfelt speech doesn't need to be so obviously signposted as a bit of theatre to impress those 'best newcomer' judges, the sincerity is more than enough.
Ilyas makes for a delightful, eloquent ambassador for British Muslims, and it's easy to see why he's been invited on to the likes of Radio 4's Now Show to make his case with a deft, light touch. The more people who hear his message, the better – so bring out the personable communicator with the impish glint in his eye.
Combine these affable attributes with a subject that could barely be more relevant, and you've an appealing addition to the Fringe scene.
Review date: 8 Aug 2015
Reviewed by: Steve Bennett
Reviewed at: Pleasance Courtyard
Recent Reviews
What do you think?