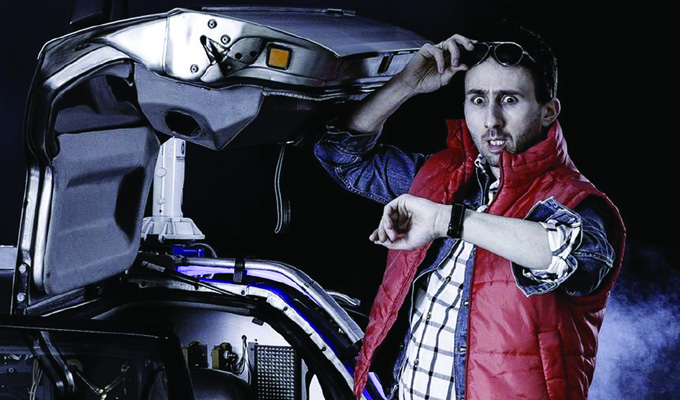 Nathan Cassidy: Back To The Future
Note: This review is from 2015
The first in Nathan Cassidy's ambitious bid to stage a trilogy of shows about the Back To The Future this festival is, to be honest, not particularly about the film.
But it was inspired by a trip to a Secret Cinema event which wrapped the screening of the time-hopping classic in an immersive theatre experience – or at least it would have done, had the show not been cancelled. It was while outside the venue, dressed as Marty McFly, that he had an encounter with another, disproportionately grumpy, fan dressed as Doctor Emmett Brown.
Well, that's the start and – kinda –  end of this knotty high-concept show. Cassidy is very much a comedian who wants to mess with the space-time continuum of comedy, ostentatiously rejecting anything he might see as trickery. Thus 'not a callback' becomes an unlikely catchphrase as he disingenuously insists neat narrative echoes involving his clumsy childhood are merely coincidental.
Likewise he mocks the idea of what this show could have been, teasing that a a scene-by-scene takedown of the movie of the 'why don't we have flying cars yet?' type now we're in the year that Marty McFly famously DeLoreoned to would be observational comedy of the blandest variety.
Into whatever flux capacitor powers this show he also tips stories of parenthood, an audience participation bit where he risks being upstaged with tonight's extrovert volunteer, and a 'carpe diem' plea for everyone to put away their phones and live in the moment (Just like in Secret Cinema, as it happens). Of course it's not that simple – nor does he make it so.
The result here is not entirely a coherent hour, as he tries too hard to wrong-foot the expected flow. Nonetheless, he's an amiable performer and you have to admire the audacity of the conceit, even if it is a little self-conscious. The weirdness of the situation certainly produces laughs of confusion, although a more sure-handed direction might have capitalised on the complex premise more.
Cassidy has something of a reputation for these ambitious ideas, earning himself a Malcolm Hardee award nomination in 2012; giving away £1 to every member of his audience of one Fringe run; or audaciously calling his show Edinburgh Comedy Award Winner. This (and possibly the other two in the trilogy) follows in the same vein.
Nathan Cassidy: Back To The Future is on at Laughing Horse @ The Free Sisters at 15:45; Part II is on at the Gilded Balloon at 23:30 and Part III is a one-off at the Free Sisters on August 19 at 15:45, in place of this show.
Review date: 8 Aug 2015
Reviewed by: Steve Bennett
Reviewed at: Laughing Horse @ The Free Sisters
Recent Reviews
What do you think?