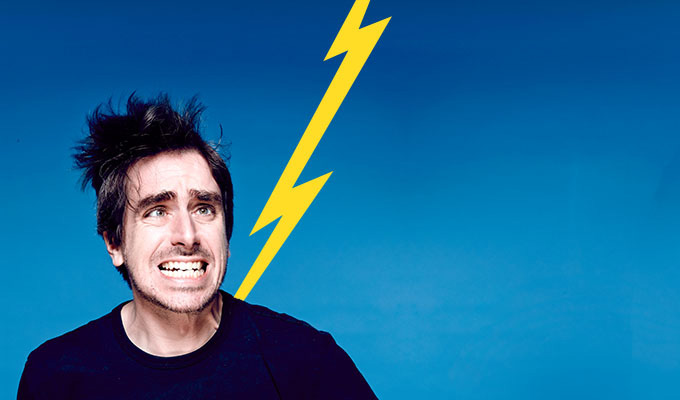 Darren Walsh: Punderbolt
Note: This review is from 2015
Puns are like Marmite; you either love them or groan audibly in despair. Darren Walsh tries to counter this perception by offering his audience a bit more variety. What appears, at first, a blasé delivery of one-liners without pausing for effect or acknowledgement, quickly turns into a sensory treat. His array of visual props such as home-made videos or child-like illustrations on placards (a cartoon drawing of a man wearing a top hat in 'Manhattan' swiftly becomes 'Manhattoff' when he is shown sans hat and skyscraper) are used effectively to break up the monotony of reeling off pun after pun, and to impress the audience with observations of how we use everyday words.
Walsh's greatest strength is his ability to make 'random' funny. Meowing the Jurassic Park theme tune to one unimpressed woman in the front row was cringeworthy, but so well received by everybody else that he reprised it towards the end of his set. Walsh treats every scenario as if perfectly normal to discuss out loud – no one had a clue what was going on, but it was hard to keep a straight face when he played videos of himself in bizarre situations, such a wearing a lobster outfit while trying to use a mobile phone, or being terrorised by screaming mouths on his wrists.
Not all were impressed when it came to audience participation, however. Walsh struggled with the few heckles made at his expense, and failed to deliver laughs with some of his off-the-cuff retorts. His intention was to prove he could make a pun out of any word the audience could throw at him, which was a good idea, but there were a few spells of uncomfortable silence that he just couldn't seem to fill. There's no doubt that Walsh can do improvisation, but his performance works so much better when he doesn't.
Luckily the lulls mid-set did not last long: the audience were back on his side thanks to some terrific visuals and a well-timed sales pitch for his book Cheep Laughs.
Walsh's swiftness to lift the mood with an injection of silliness – an audio recording of the word 'boobs' always got a loud snigger from the back row in particular – shows that he can read his audience effectively to steer the performance in a different direction when needed.
Review date: 7 Aug 2015
Reviewed by: Helen Ackrill
Reviewed at: Pleasance Courtyard
Recent Reviews
What do you think?