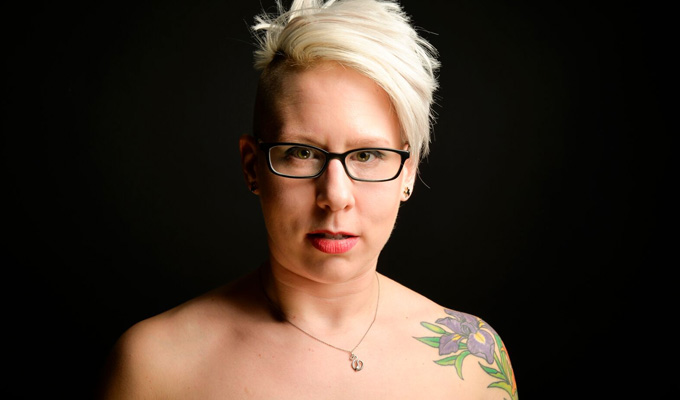 Abigoliah Schamaun: Post-Coital Confessions
Note: This review is from 2015
Should you have been weaned on a cultural diet of Hollywood movies, Cosmo magazine and chick-lit, you'll know sex to be a beautiful, balletic coming together of two perfectly matched bodies and souls. If so, British-based New Yorker Abigoliah Schamaun is on a mission to disavow you of that notion. 'Sex is weird,' she says. 'And sticky.'
However the fact that sex is actually more awkward and embarrassing will come as a surprise to no one. Not even the virginal if they've watched enough stand-up, an art virtually founded on exposing what really goes on in the bedroom.
Schamaun's brutally open about her sex life - we're into strap-ons and butt plugs well before 5.30 in the afternoon - though at the Fringe this is no longer the stuff of shock, so depriving some routines of the supposed outrageousness from which they seek laughs. For all the dirty talk, a more innocent story about her getting lost while training for a marathon was the first thing that really tickled.
This comes from the core of the hour; a sex-based bet she had with her fuckbuddy – the stereotypical picture of cold Britishness in emotional demeanour, but hot in physique. The wager was she couldn't lay of the booze for seven months while in training for the Brighton marathon; the forfeits, submission in the sack.
Over the course of this time, the 29-year-old alpha-female learns things about her crush that adds a depth to her story about norms in sexuality, even at the far-from-vanilla par of the spectrum she inhabits. There's some strong material, too, about the realities of 50 Shades Of Grey fantasies and a memorably hand-job routine that's likely to haunt anyone who hears it at the most inopportune time.
The maguffin of the show is the inappropriate things said after sex, illustrated with recorded reproductions of real-life confessions – a funny idea used appropriately sparingly. Sometimes Schamaun needs only to raise a quizzical eyebrow to get a laugh from these, which range from the bizarre to the troubling.
While her sex tales initially seem to be just gossipy indiscretion followed by an often-easy throwaway punchline, they seem to grow in confidence. And there's actually a strong story underpinning them all, which means the hour pulls together for a conclusion that's surprisingly satisfying. Even if it is then undercut with an unexpected postscript. Like sex, life doesn't always end up like it does in the movies…
Review date: 7 Aug 2015
Reviewed by: Steve Bennett
Reviewed at: Gilded Balloon Teviot
Recent Reviews
What do you think?