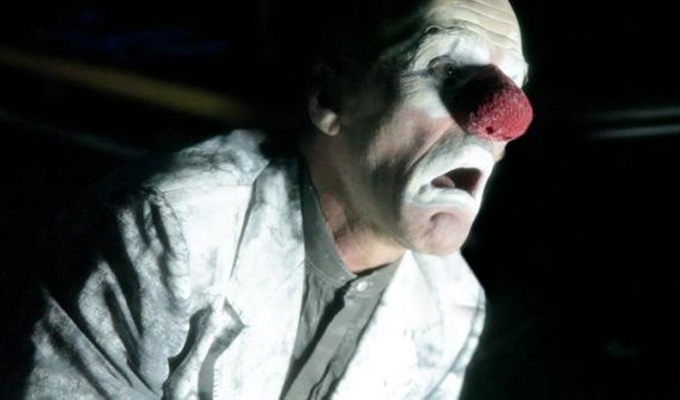 EricTheFred
Note: This review is from 2015
Reviewed in London in January.
What does the man who sticks a firework up his arse do for an encore? This is the answer.
Chris Lynam, who has spent 30 years on the stand-up circuit with his anarchic pyrotechnics, starts this silent show being booed off stage; picking detritus from his hair and tutu – yes, tutu – as he stomps angrily into his dressing room. He disrobes angrily and clumsily, getting twisted around his tights, foreshadowing some of the physical comedy to come.
As he sits dejected, he is visited by a ghostly doppelganger, maybe the apparition of his younger, less jaded self. Through encouragement and rivalry, the ethereal visitor helps the performer find his salvation in his clown alter-ego, a grim-faced Grimaldi who secures some happiness, albeit short-lived, in the music he makes and the birds of the air.
Dream-like sequences are projected onto a gauze across the front of the stage, allowing Lynam to interact with the inventive, stylish animations that do so much to define the near-monochromatic aesthetic. But it's an emotional barrier between the performer and audience as well as a physical one, and something is necessarily lost through the membrane.
It contributes to a lack of warmth in the show, especially in the sections immediately after he dons the crumpled suit of his clown. The pathos here seems as slapped on as his whiteface, and watching Lynam chase the birds seems like it's the sort of thing a clown does, rather than because you empathise with him. Likewise, his entanglement in a chair seems like a unemotive, mechanical reproduction of a silent classic. There are a couple of familiar tropes here, from becoming an Elmer Fudd-like hunter to sitting fishing on the crescent moon – à the Dreamworks logo – and another theatre-goer made unflattering comparisons Slava's Snow Show, the physical theatre hit of which Lynam is a regular part.
Yet on a technical level, EricTheFred repeatedly impressive, with creative ideas brilliantly executed, including some stand-out set pieces that hilariously flip expectations on their head; injecting comedy into a show that isn't always intended to be funny. Lynam's timing is acute, the graphics are outstanding and the score wonderfully evocative. It is, undoubtedly, a visually impressive spectacle with some fine set pieces and no little charm. Eventually we even come to care for this dejected clown.
This outing for the London International Mime Festival is a world premiere, with a modest run at the Jacksons Lane arts centre in Highgate for just three nights until tomorrow. That might, perhaps, allow some tinkering to the early scenes before the next version is unveiled – for although flawed, this show can be absorbing and enjoyable in its highlights.
Review date: 3 Aug 2015
Reviewed by: Steve Bennett
Reviewed at: Jacksons Lane Theatre