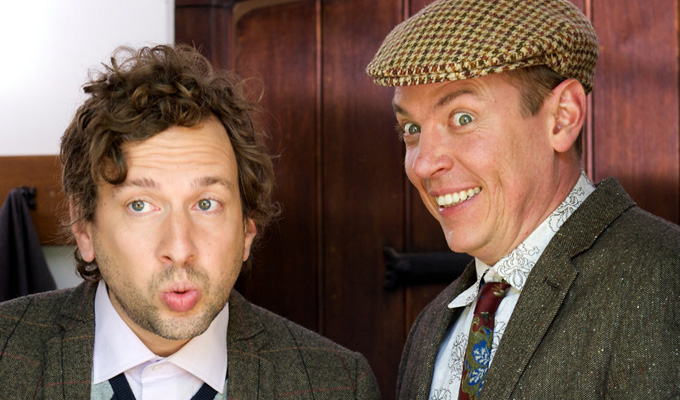 The Last Sparks Of Sundown
Note: This review is from 2015
On stage, the Pajama Men create multi-stranded filmic epics in their nightwear, so a transfer to the big screen seems long overdue.
However their first foray into features, The Last Sparks Of Sundown, though sporadically amusing, lacks both the ambition and the consistency of their stage shows. The first might be forgiven given its ultra-tight budget of just £45,000 – making it an incredible achievement even to get the work in cinemas – the second is more of a failing of writer and director James Kibbey, who hired them.
Mark Chavez and Shenoah Allen play struggling American acting brothers Matthew and Harvey Sparks, who in a hurried bit of plotting discover they are heirs to an English manor house owned by their grandfather, a one-time luminary of the British stage. They hope to sell up quickly to ease their financial woes, but when they turn up they find it occupied by a mysterious housekeeper, engagingly played by Emily Bevan, and her unnerving grandmother (Sara Kestelman)
And like the Americans in Britain, the film never quite feels settled, an uneasy mix of broad farce, bucolic whimsy and alleged tension. As the deceased Sir Buster, Geoffrey Palmer provides a mellifluous narration that does its best to paper the cracks, but it's a sticking plaster on a fracture.
The Pajama Men's on-stage anarchy has been subdued for the film, but Kibbey doesn't quite know what tone to replace it with. They still play broad, but its harder for an audience to empathise them through a story hampered by frustrating inconsistencies in plot and motivation.
Still there are some amusing set pieces: the pair welcoming would-be buyers, especially, seems to have been born of the improvisation for which they are known, and there are some inventive visual touches, from a scene underwater to a brief bit of physical comedy when Chavez is bugged by a bee. Malapropisms vary from the funny to the forced (would anyone really misbelieve it's 'Ray Liotta' rather than 'one iota'?) which is rather typical of the film's peculiar tone.
Miles Jupp puts in a nice performance as the brothers' agent, even if it's a character who makes little sense; Kayvan Novak is typically full-on as the psychopath on the pair's tail while Christian McKay seems to channel David Cameron as the oily and untrustworthy potential buyer of the manor.
Yet they are all too ill-drawn and ridiculous, and prone to convenient lurches in behaviour, in a film that otherwise seems to aim for giddy rural charm. The impression is a film too quickly thrown together based on a script not nearly polished enough.
Still, £45,000, eh? They probably spent more than that on napkins in the catering van for the execrable Pixels.
• Last Sparks Of Sundown is on at the Prince Charles Theatre, Leicester Square, London, at 6.30pm from Monday to Thursday next week. Monday's screening includes a Q&A with cast and director.
Review date: 24 Jul 2015
Reviewed by: Steve Bennett
Recent Reviews
What do you think?