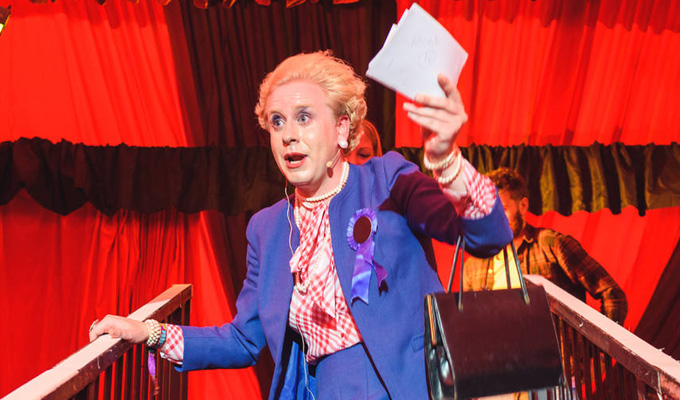 On Yer Bike - The Maggie Thatcher Game Show!
Note: This review is from 2015
It was genius converting Margaret Thatcher into a cabaret diva; and now Matt Tedford's version of the Iron Lady has become a game show hostess. And why not? She certainly has the headmistress-like air of authority….
Tedford plays up the panto villainess aspect of the milk-snatcher, but could probably push it even further. A highlight is when she berates an audience member who dares heckle (though generally shouting out is encouraged in this rambunctious show). Her withering distain is hilarious when in full force.
Tedford is certainly a quick wit when it comes to banter, and with co-writer Jon Brittain there are plenty of knowing in-jokes in the scripted sections that any of Thatcher's Children should enjoy.
On Yer Bike is an affectionate parody of cheesy Eighties gameshows that literally takes place on exercise bikes, and today fellow festival comedians Jenny Collier and Joel Dommett were roped into the saddle to vie for the big prize - the golden giro (or £73.10 of 'mis-spent taxpayers money' as the former PM has it). They didn't always seem to know what was going on, but entered into the spirit enthusiastically.
But this is not just a game show, it's a game-show-cum-drag-cabaret-extravaganza-cum-Christmas-Carol-spoof, as Mrs T persuaded to change her evil ways when visited by the spirits of Jeremy Corbyn, 'celebrity socialist for hire' Owen Jones and Mhairi Black… so it helps if you're up on your politics to know who the 20-year-old SNP MP is. Foul-mouthed Winston Churchill makes another appearance, but the speaking portrait becomes self-indulgent even for a show that revels in its extravagant indulgence.
As before, Thatcher is accompanied by her hotpanted, lavishly moustachioed back-up dancers, Hessell and Tine, and between rounds such as Check Your Privilege and Tax Eva…Avoidance they belt out disco numbers.
For a glitzy show, it's also a bit rough around the edges. That's a big part of its charm, but there moments in this early Latitude incarnation where it's just a bit too loose. But at its peaks, it's so much fun that Theresa May will probably outlaw it.
Review date: 17 Jul 2015
Reviewed by: Steve Bennett
Recent Reviews
What do you think?