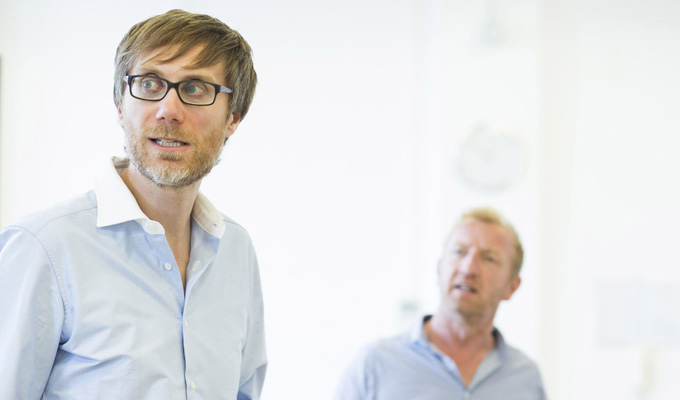 The Mentalists with Stephen Merchant and Steffan Rhodri
Note: This review is from 2015
A passionate idealist sits in a bedroom, setting out his manifesto to a video camera: how capitalism is flawed, how politicians are all the same, how we could build a utopian society on more noble ideals.
No, it's not Russell Brand recording the latest episode of The Trews, but Stephen Merchant starring as a misguided daydreamer in Richard Bean's The Mentalists.
This is the play he wrote for the National Theatre in 2002, before One Man, Two Guvnors, and now revived following the latter's global success. Merchant's character, a suburban middle-manager called Ted, arrives in a beige hotel room in Finsbury Park with water-stained ceiling tiles and veneer-thin walls with his 'best china' Morrie, a hairdresser, womaniser and amateur porn auteur who's agreed to work the camera.
The perfect society Ted envisages is based on a real novel, Walden 2, by a real behaviourist BF Skinner, who believed psychologists are 'mentalists', wasting their time studying the mind when people can simply be conditioned to do the right thing by a Pavlovian system of reward. Ted's dream is to establish a radical 1,000 strong commune – no one ever say c**t; it's definitely not a cult – built on these principles. With him as its benevolent dictator, obviously.
It's a goal born out of his impotent frustrations with an impolite world. He has clear views of what he wants in the totalitarian dream state, a country as clean as Switzerland, run by idealistic, middle-England rules of 'cleanliness, good behaviour and sleeping only with your own wife'. It could be summed up as 'no riff-raff' – and that includes wishy-washy Guardian readers 'fucking it up for the rest of us'. The Daily Express would surely be the newspaper of choice here.
In the play's programme, Merchant says his performance is inspired by both Tony Hancock and John Cleese's classic portrayals of the frustrated Englishman. Indeed as Ted grumbles about the state of society, deludedly imagining that he deserves better, you can almost hear the lines coming out of the the Homburg-wearing Lad Himself, which is testament to Bean's comic writing.
Merchant's a bit less convincing when his frustrations explode into full Fawlty-like rage. When the impulse is tempered by ingrained English politeness, the conflict becomes funny, as, for example, he kicks a tray of sandwiches with more caution than fury. But he seems too mild-mannered for the full-blown physical breakdown, though thoroughly convincing when it comes to mental frailties.
Bean's script is, however, driven more by gags than character or plot. His background as a stand-up is very evident in Ted's observations and his digressive conversations with Morrie. One of his very first lines has him pick up the 'useful numbers' card by the phone and observe wryly that the first number is for the Samaritans. He hates them, he proclaims to a big laugh, because 'if they really cared, they would call you'.
The two-hander dynamic is pretty much as comedian and audience, though both characters have their share of funny lines as they mull Bobby Charlton's peripheral vision or the decline of Greece from the birthplace of civilisation to its modern incarnation (given added bite by the nation's current problems). There's some nice visual gags too, courtesy of the video playback of Ted's rant… and the obligatory hotel room trouser press.
Morrie's vocabulary shortcomings, forever muttering about the 'wassisname' add to the comic beats, while the tall tales of his father's incredible achievements signpost that his status as being grounded and level-headed comes only in comparison to his companion.
If the first act is little more than a humorous take on the state of the world, the second hints at themes of co-dependency and everyday alienation. The plot's pivot is a bit of a stretch in credibility, while we're never quite invested enough in the characters as anything other than ciphers for some brilliant lines to really be affected by their eventual plight.
But the jokes are strong, and played nicely by both Merchant and co-star Steffan Rhodri (probably best known for portraying Dave Coaches on Gavin & Stacey); so even if this brisk play feels more like a snack than a banquet, it is at least a tasty one.
• The Mentalist is on at the Wyndham's Theatre, London, until September 26. Click here for tickets.
Review date: 13 Jul 2015
Reviewed by: Steve Bennett
Recent Reviews
What do you think?