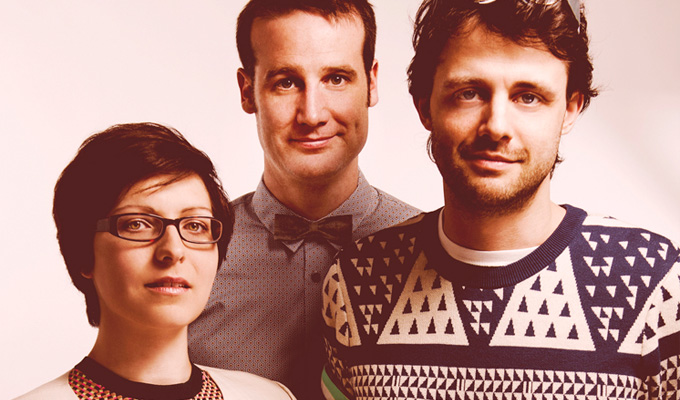 Festival Of The Spoken Nerd: Full Frontal Nerdity DVD
Note: This review is from 2015
This is possibly what Top Gear would be like if it were about science, not cars. And if it had presenters you can't imagine ever pummelling a producer.
Admittedly with a stage budget their stunts aren't as spectacular – electrocuting a gherkin instead of smashing up caravans – but the dynamic of three mates, mucking about as they explore a shared passion while ribbing each other for exaggerated personality traits is essentially the same.
Festival Of The Spoken Nerd, or FOTSN as all the cool kids are calling it, is probably never going to convert any non-geeks to the cause. But instead it shares in-jokes with this sizeable constituency, who find joy enough in spotting the references, let alone the added bonus of the knowing jokes cracked by science geek Steve Mould, spreadsheet-loving mathematician Matt Parker and musical physics graduate Helen Arney.
For clues to their audience look no further than the question they ask over the interval of Full Frontal Nerdity: What's the nerdiest thing you've done? They range from, only giving a dog treats in prime-number quantities to sexting in binary.
Our triumvirate have their own scientific escapades to show off, too. Arney tries to shatter a wine glass with only her voice (and some kit from Maplins), Parker puts his own face into Excel, and Mould proves there's no such colour as magenta. Then all get involved when it comes to firing toroidal vortices around the Bloomsbury Theatre. That might sound a bit Doctor Who, but it's just a smoke ring – albeit a specially impressive one.
Trumping them all, though, is Mould – who has managed to join the likes of Einstein, Edison and Doppler to have a scientific 'effect' named after him… a source of much-mocked pride among the others, secretly envious that he's achieved this Everest of geek cool.
All these Royal Society Christmas Lectures-type experiments lead to an abundance of entertaining 'making of' DVD extras, where the in-jokes continue. There's also the expected commentary track as well as a commentary on the commentary (well, it has to be peer-reviewed) – while other options include a swear-free version of the soundtrack for schools, and subtitles in both binary and Klingon. And Klingon translated back into English.
Nerdy indeed, but fun too. I'd but this is the only comedy DVD whose sleeve notes credit both Kylie Minogue and an academic paper into the integrals of the hydrodynamic equations which express vortex motion.
Clearly a close relative of the sort of pop science championed by Robin Ince and Dara O'Briain, FOTSN is a show with 'sets appeal' for the curiously inclined and as such this DVD deserves 100 stars.
Though that's a binary representation, of course - it's four for those of you more used to Base 10 counting.
• Festival of the Spoken Nerd: Full Frontal Nerdity has been released on DVD by Laughing Stock. Click here to order for £15 for a physical copy or £5 to £10 for a download.
Review date: 8 Jul 2015
Reviewed by: Steve Bennett
Recent Reviews
What do you think?