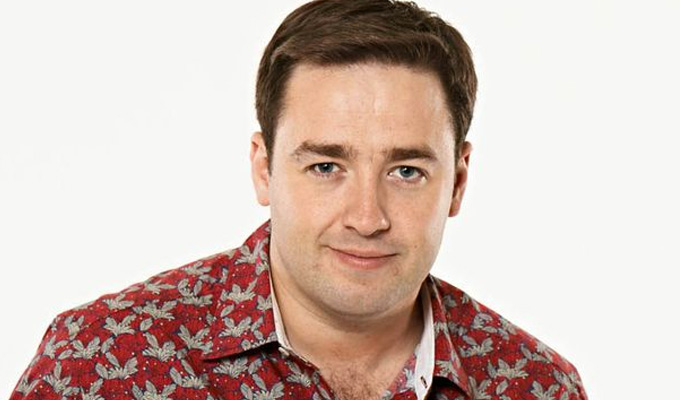 It's A Funny Old Week with Jason Manford
ITV's latest venture into topical comedy is less a UK version of The Daily Show and more a programme for those who find Russell Howard's Good News too edgy.
Just three minutes into It's A Funny Old Week, host Jason Manford called an end to his coverage of the 'big stories' – the big stories being the likes of Kate Moss getting stroppy on Easyjet or the woman who got topless on the Malaysian mountain. Thank god that such heavyweight stuff was dismissed quickly so we can get onto the lighter side.
In fact it wasn't just Croydon's most famous daughter, boorish behaviour in general was something of a theme as Manford covered people getting pissed in Magaluf, people getting pissed on Love Island, and people getting pissed in Ascot, this last one illustrated with that most tired of comedy trope, the bogus Claims Direct-style advert. (Ironically, as it happens, as many a viewer might feel they'd been mis-sold a topical news programme).
The show's sensibilities could only be more rooted in low-denominator reality TV had it been hosted by Joey Essex – but this is the state of ITV today. Only one politician was mentioned in the whole half-hour; a bloke from Spain caught on an internet clip grappling with his false teeth. For what is a topical comedy show these days without resharing the same clips that have already gone viral online? Present this week was the soldier who accidentally struck a young girl in the face and a child swearing in a safari park – which actually provided one of the biggest laughs of the show.
These 20-odd minutes took nine writers, many of whom would be recognisable from the stand-up circuit, but not Manford, reading an autocue of words that are not his own. The team rather surprisingly included Andy Zaltzman – reduced to this uncharacteristically lowbrow fare which couldn't be further than what his partner in podcast comedy, John Oliver, is doing in the States – and Gary Delaney, who must be keeping the best one-liners back for himself.
But whether the writers could do better or not, this show has a feel of executives who wouldn't want them to. It fears expressing any sort of opinion or tackling anything more contentious than whether you should be allowed to wear tracky bottoms to Wetherspoons or not.
I say 20-odd minutes of writing, it's probably half that when the clips, a flat polemic on manners by Joan Collins and the guest comedian are accounted for. And while it's always good to see stand-up put on primetime; Jason Byrne talking entertainingly about his mad family seemed out of place on a show billed, more out of hope than expectation, as a 'topical comedy news review'.
Nonetheless, judging from the soundtrack the studio audience are on a hair-trigger to laugh, chuckling at observations such as 'if you're in someone else's holy place, don't get your kit off,' or responding to some research of the bleeding obvious: 'We really need a study for that do we?' These are not jokes by any measure, but are so well-delivered by Manford, with all the right cadences and pauses, that he gets a response. Occasionally a good joke peaks through the wryly jaunty attitude, but most the time, his cheery 'what's all that about' shrug is all there is.
The brief 'local news' section has the most charm, perhaps because the stories are both quirky and obscure – leading to a couple of gags that wouldn't have been out of place on The Two Ronnies. And I mean that as a compliment, a robust standard of mainstream entertainment that It's A Funny Old Week can mostly only dream of.
ITV's last bite at the topical fruit, Newzoids, belatedly found its teeth midway through its series when it starting satirising politics more than vacuous celebrities… but by then it had already lost its audience. Hopefully It's A Funny Old Week will get there quicker, but after three previous year-end specials before this new weekly format, ITV have probably already decided to keep it fluffy.
Review date: 16 Jun 2015
Reviewed by: Steve Bennett
Recent Reviews
What do you think?