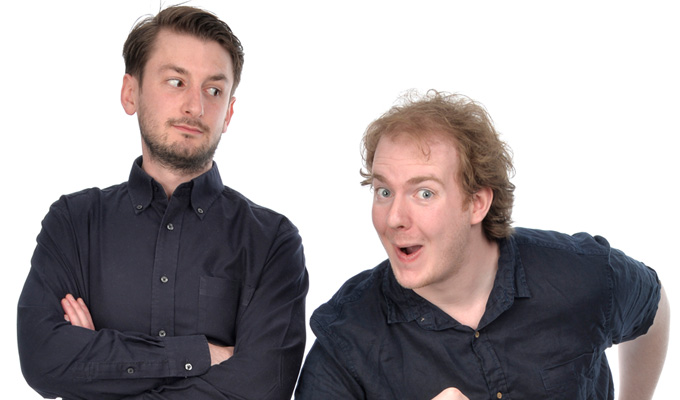 Best Boy: Bested
Note: This review is from 2015
The alleged backstory of Best Boy is that they once had a sketch performed on Radio 4. But that's not much of a joke, since even stripping away the irony, this new double act seem rather too desperate to have a shot on the station.
In fact, they sound very much like a nondescript Radio 4 show of 20 years ago. Their middle-class RP accents don't help, but more of an issue is the formulaic nature of so many of their skits offering a 'sideways glance' – as the continuity announcer would not doubt have put it – at familiar topics from childhood rhymes to Shakespearean quotes.
An early alchemy sketch plays out the simple joke exactly as you would expect; and there's a recurring idea of first drafts of great poems – exactly the same idea as the regular single-panel cartoons in Private Eye. They spoof the familiar old genres of film noir or Cold War spy novels, with their peculiar secret passwords – but since these tropes have been relentlessly parodied for decades, the tone feels decidedly dated.
And when they do sketches based around tortured wordplay, of which there are more than enough, they parenthesise them with self-referential apologies for how poor the material is – then draw attention to the fact they are being oh-so meta. It's supposed to make them seem cleverly astute to their own failings, I guess, but so many acts do this now in the wake of Stewart Lee, it seems a lazy way of pointing out how lazy you are being.
Yet sometimes they do something more imaginative with their scenes. That old staple of the bad magician is given a twist that takes it away from Tommy Cooper territory, packing a punch by sheer commitment to a repetitive, silly idea. A couple of scenes, too, show a pleasingly macabre dark side, and the cure-for-cancer sketch has a neat punchline showing some inspirational flair.
Quite which sense of humour is closest to their natural instincts is hard to figure out, in a show that suffers a lack of firm personality. It even seems quite fluid who takes which role in the double act dynamic, Dan Smith and Charlie Mizon taking it in turns to be the nominal leader of the two-man parliament of fools.
The writing is mostly perfectly decent, functional stuff, even on the hoariest of topics, and the performances are solid enough, too. But it's just not very exciting, save for some notable exceptions.
Review date: 24 May 2015
Reviewed by: Steve Bennett
Reviewed at: Brighton Otherplace at The Basement
Recent Reviews
What do you think?