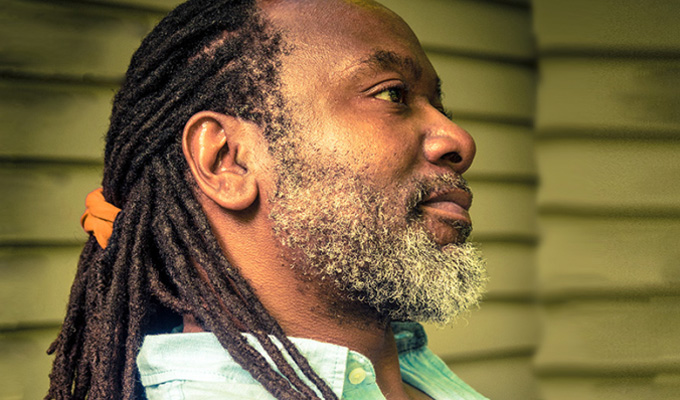 Reginald D Hunter: The Man Who Attempted To Do As Much As Such
Note: This review is from 2015
Although he's the epitome of dignified Deep South good manners in his demeanour, in his content Reginald D Hunter can be filthy and provocative, which means he's rarely far from trouble. Normally it's over accusations of misogyny, though such controversies do nothing to harm his mischievous sense of transgression.
But tonight the Cliffs Pavilion in Southend frequently echoes to the polite applause greeting a point well made, as the laconic comic offers his latest batch of philosophical musings. That response sometimes seems more important to him than the laugh, despite his job description, but it's not too detrimental to the entertainment.
Gender politics are, as ever, uppermost in his mind, whether it's berating Roseanne Barr's militant take on feminism, or the emotionally manipulative heckler at one corporate gig, using moral outrage at a joke she didn't get as her weapon. In the post-gig comedown, Hunter was urged to say sorry, but given his stance on the insincerity of public apologies, it didn't quite work out.
On other sexual matters, Hunter brings the house lights up for straw polls of the men and women in the room, cheekily emphasising ingrained hypocrisies. Honest even when it might hurt those around him, he confesses to his girlfriend that he has a strong urge to cheat on her, believing it the best policy. In some relationships this could be seen as a controlling way of preying on her insecurities, but in the world of Reg, it all seems to work out.
In probably the most evocative sections of the night, he mulls his relationship with his religious siblings, late mother and redoubtable 94-year-old father – whose unconventional frankness, especially when talking birds-and-bees to the teenage Reg, undoubtedly helped createdthe man he is today. The family aspects certainly add a tenderness to counter his potentially more indelicate utterances.
Racism is never too far from the agenda, either, and it's here that the charismatic Hunter is at his most insightful, while tales of him fleeing a civil war reenactment during the filming of his recent, acclaimed BBC Four documentary Songs Of The South, mixes menace with slapstick.
Unafraid of silences, Hunter imbues his material that can be simultaneously lofty and base with a thoughtfulness, which he punctures only sparingly with a punchline, keeping us listening on tenterhooks in anticipation of the laugh. In some previous performances he's abused this power, with meandering ramblings seeking to justify outlandish positions for the sake of provocation, but here he has a little more sense of purpose, even if he's not going to be rushed into anything.
When he calls an interval just 20 minutes in, it does initially seem like his lazy bad habits are back. But given the second half is a more robust 50 minutes, maybe he's just too tight to afford a support act. As he never tires of telling us, he's being hammered by the Inland Revenue to give up 52 per cent of his earnings, presumably over previously unpaid tax. He's bitter about it, but in the same breath praises the NHS compared to the health system back home in the States, without apparently making the connection that it has to be paid for. Like all of us, his smartness can dissolve when it suits him.
Review date: 14 May 2015
Reviewed by: Steve Bennett
Reviewed at: Southend Cliffs Pavilion
Recent Reviews
What do you think?