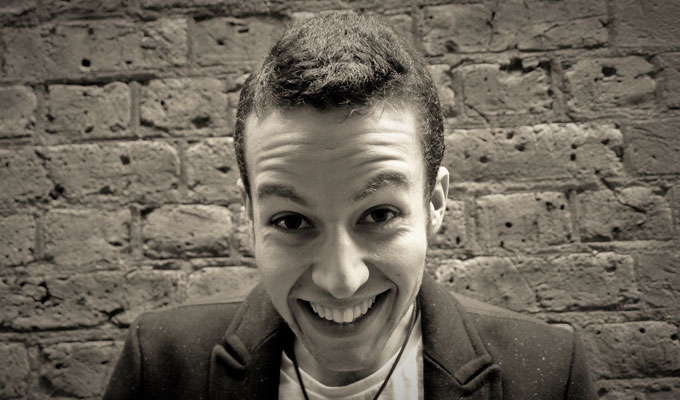 Dave Chawner: Normally Abnormal
Note: This review is from 2015
Everyone needs an angle, and Dave Chawner is setting out his stall as the 'anorexia comic'.
He's a valuable spokesman for the condition, a great communicator able to talk about his experiences with eloquence, honesty and good humour. No wonder a handful of charities have recruited him as an ambassador.
This is his second stigma-dissolving show on the topic, and while this personably 26-year-old shows a maturity in the subject matter, that's not always matched by a maturity in the comedy.
A bit too often does he reach for an easy, even cliched, punchline. Jokes such as 'Any vegetarians in? I'm surprised you've got the energy to cheer', 'Brixton… it's a bit stabby' and 'There's nothing wrong with being gay… some of my best friends like musical theatre' do him no credit.
Gags – sometimes slightly trite – are added as tension-relievers whenever there's any danger of the mood getting even slightly sombre (it never does), yet the most rewarding laughs emerge more naturally from the real-life situations.
He tells us how thinness became entwined with self-worth in his head; the form his obsessions took; how he fretted when he couldn't exercise absolute control over his calorie intake; and how he came to realise he had a problem. His approach is to openly share anecdotes in an upbeat way, rather than indulging in any sort of self-pitying misery porn.
Speaking about his illness is clearly a catharsis for him, as it is for an increasing number of comedians bringing into the open mental health issues in general and depression in particular, another subject Chawner touches upon in typically light style. His shtick is that whatever problems he's battling with, he's still something of a dick – albeit a good-natured one. The self-deprecation adds to his engaging presence, backed by an unquenchable enthusiasm to try to give us all a good time.
There are some sections away from these core subjects. The aforementioned vegetarianism spreads out into a few minutes that aren't as interesting as he thinks. And a closing routine about how the Chinese mistranslate Hollywood film titles is amusing, but so are the internet pages dedicated to the same thing. Neither would stand up to much fact-checking.
But his upbeat delivery and candid confessions make for an enjoyable, and sometimes enlightening, hour.
Review date: 5 May 2015
Reviewed by: Steve Bennett
Reviewed at: Brighton Hobgoblin