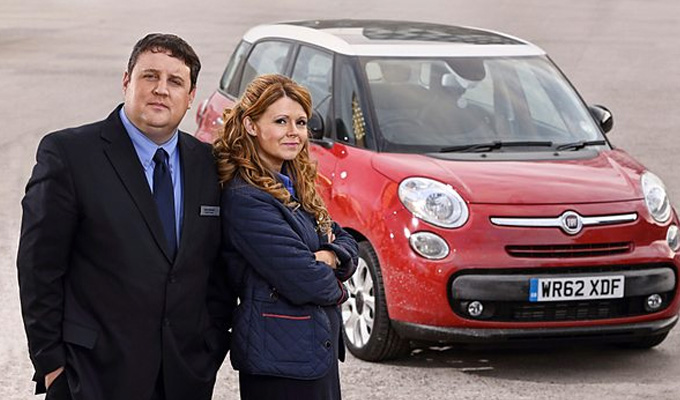 Peter Kay's Car Share
Note: This review is from 2015
It seems fitting that Peter Kay's first sitcom in more than a decade has been released online first.
For Peter Kay's Car Share – his name being officially part of the title – seems very much like an internet project. Set almost entirely within the confines of his average-priced car, save for a few establishing shots, the opening episode almost feels like an installment of Jerry Seinfeld's Comedians In Cars Getting Coffee – but with more modest production values.
Kay plays supermarket assistant manager John Redmond, forced to give a lift to promotions rep Kayleigh Kitson (as in Daniel?) else lose his precious parking slot.
It wouldn't be a story arc if they didn't rub up each other at first, but end up getting on – which is exactly what happens in the first of six episodes, all of which are released on iPlayer tonight.
The basis of the comedy is not especially sophisticated or original, although it is done with warmth and with a very watchable low-key approach. Kayleigh originally thinks John is gay (and for Kay's character, homosexual is something you're 'accused' of) while on their first meeting she accidentally spills a urine sample over him, an epic contrivance that forces him to take his shirt off to reveal an I Ran The World vest beneath.
Such cheesy nostalgia is, of course, typical Kay. He didn't primarily write the script – Tim Reid and Paul Coleman take that credit – but it bears his hallmarks.
'Guilty pleasure' music is another key strand thanks to the car radio tuned – at Kayleigh's insistence – to local radio station Forever FM. It's not quite Chorley FM, which provided the soundtrack to Phoenix Night, but it does allow her to sing along to B*witched and the like, in between adverts for sheds.
Kay pretty much plays to type, the Bolton accent strong, while as Kayleigh the unknown Sian Gibson deploys a engaging cheery charm. The unforced performance is a good calling card for her - while both she and Kay are listed as co-writers, suggesting a bit of improv in those front seats.
Jokes are fairly lame, however. When talking about older fathers such as Des O'Connor, the observations is that soon his wife 'will be changing two sets of nappies', while Kayleigh reveals that she split from his ex because he was 'poking my cousin… and I don't mean on Facebook'.
But while the LOLs are limited, there is an affectionate, feelgood atmosphere to the show. As the pair complete the episode's last drive home, they reassure each other: 'I'm happy sharing with you'. The sun sets and romantic music comes on Forever FM, suggesting the future path for our two singletons…
• All episodes of Peter Kay's Car Share are available on iPlayer from now until midnight on Tuesday before the first episode airs on BBC One 1t 9.30pm on Wednesday.
Review date: 24 Apr 2015
Reviewed by: Steve Bennett
Recent Reviews
What do you think?