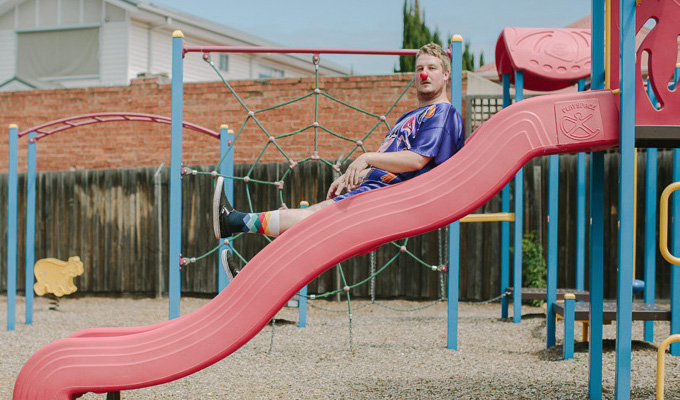 Blake Mitchell: High Noon At Yum Yum Mountain
Note: This review is from 2015
Well, this was desperately unpleasant. An hour of confusing, disconcerting and intimidating physical comedy, taking audience participation into the realm of bullying, all done without charm or humour.
At one point, Blake Mitchell grabs a pile of baby dolls, caves their skulls in, then carries the sack of 'corpses' through the room. This seems more like the work of a psychopath than a comedian.
There is nothing wrong with making an audience feel uncomfortable, of course, but there surely needs to be a purpose to it. Mitchell is the physical equivalent of the laziest kind of shock comic doing the worst things, just for a reaction. At another point, he fingerbangs a toaster – but don't be fooled by the phrase being funny, in real life it's just creepy.
The show starts with him in the dark, grappling with the audience from beneath his blanket. Once he reveals himself, dressed in a Japanese silk shirt and red nose, he's back through the rows, confronting us again as he rubs his sweaty nose in everyone's face.
He frequently calls upon the audience to help him, with quite heavy demands on what they must do, and no grace in the way he approaches it. Luckily tonight is full of performers getting in for free on their festival passes, so they oblige. The one real punter he picks on to cradle a toy Elmo (don't look for meaning) was blind drunk, which just made things weirder.
Some of the non-paying audience were apoplectic with laughter – way too much, I'd say – at his challenging behaviour. The two other paying punters, aside from the drunk, just looked baffled. As well they might; for this is an experience that soils your soul. It couldn't end soon enough.
Review date: 14 Apr 2015
Reviewed by: Steve Bennett
Reviewed at: Melbourne International Comedy Festival
Recent Reviews
What do you think?