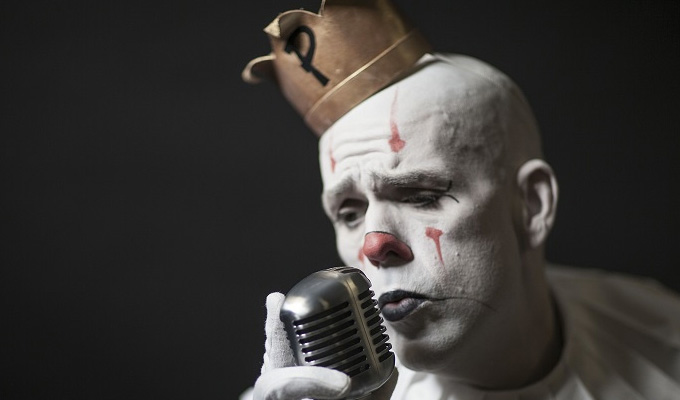 Puddles Pity Party
Note: This review is from 2015
Standing near 7ft high, with shaved head, impassive whiteface and white Pierrot outfit, Puddles looks more Batman villain than sentimental harlequin.
When he wordlessly pulls a victim from the audience, menace hangs heavy in the air; the chosen one placed on a chair like a hostage as the sinister clown moves slowly away… only to return with party hat, helium balloon and a hearty rendition of Happy Birthday.
Such playful interludes leaven the melancholic cabaret of Pity Party, otherwise a captivatingly atmospheric showcase for this Atlanta native's powerful, plaintive baritone. Haunting songs such as Leonard Cohen's Hallelujah, I (Who Have Nothing) and Lorde's Royals, which made his name and won 11million YouTube views, are given a further shot of poignant melancholy. He also stamps his troubled personality on the likes of Dancing Queen, reinvented here almost as a tragedy.
Though his Pity Party is more cabaret than comedy, Puddles – Michael Geier to his mother – introduces several notes of humour, not least in his unrequited love song to Kevin Costner. And the look of hurt on his face to the traditional Aussie response to Am I Ever Gonna See Your Face Again, which he presents in all innocence, is priceless.
Staging is exquisite, with vintage movies or evocative artworks of Puddles's face projected as a backdrop. His crowd work is uncomfortable but perfect, as he determinedly pushes through the rows like a bowling ball – and even the bar staff aren't safe from his prowling.
He's like a little boy lost, kicking out at the world through fear and awkwardness but eventually showing his vulnerabilities.From a bizarre and disconcerting start, Puddles enraptures the audience over an hour of classy, artful entertainment.
Review date: 6 Apr 2015
Reviewed by: Steve Bennett
Reviewed at: Melbourne International Comedy Festival
Recent Reviews
What do you think?