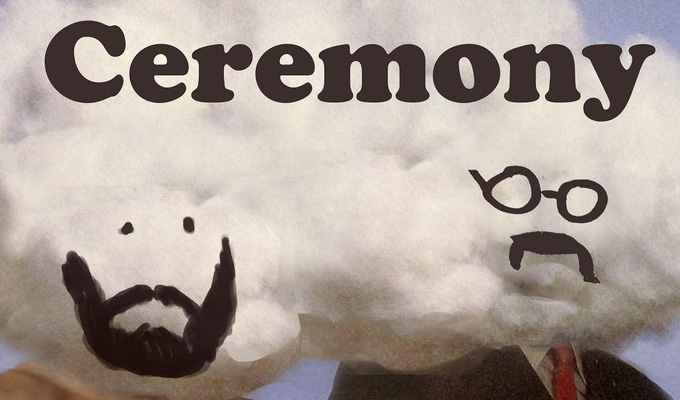 Ceremony with Dr Brown and Sam Simmons
Note: This review is from 2015
A messy, sweaty orgy of barely-choreographed chaos, Ceremony lets Sam Simmons and Dr Brown fully off the leash to indulge their most anarchic ideas… and neither were exactly tight on that sanity-leash in the first place.
As the audience enters, a bewigged Simmons prowls the room emitting anguished primal screams, and that's as normal as the late-night show – loosely framed as an awards-bash-cum-eulogy for the absent Cregg – gets.
Any semblance of decorum quickly descends into a carnage of sloppy food play, with Rice Krispies, bread and fizzy drinks slathered everywhere as the pair alternate between slapstick violence and uncomfortable intimacy, the two extremes of human emotion. Feeding each other in a way that's never short of disgusting, they put the Fanta into 'homoerotic fantasy'; and give you such nightmarish visual feasts that you'll never look at a baguette in quite the same way again. And that's even before Dr Brown gets his junk out…
Although there is some method to their madness, these joints Lords Of Misrule are essentially pinballing from one zany extreme to the next, unsettling the natural order of things. You never feel quite safe in your seat as the pair whiz around the auditorium, and sometimes outside of it, before picking their next victim. 'Don't hurt people,' Simmons has to caution his co-star as he manhandles one punter. At least not physically – psychologically will be fine…
Quite what purpose their is to this beyond causing tumult is never said, and probably doesn't exist. There's a ritual sacrifice of an unnervingly realistic toy horse that comes so near the end that by now such behaviour is normal. They could probably have produced a real animal and we'd have gone along with it.
Simmons initially looks respectable, while Brown wears a kimono-style gown, garish warpaint, and a Chinese lantern as a hat, like a dollar-store guru. However by the end, both are so doused in fluids – both bodily and miscellaneous – that neither has any dignity intact so it maybe says something about the facility of the veneer or propriety we all have. But probably it doesn't; it's probably just a bunch of mad shit that happens, each piece so outlandish that it's guaranteed to get a reaction: of shock, of disgust, or of tension-relieving laughter. Or most likely all three at once.
The utter commitment needed to push through with this insanity so thoroughly, and with no sense of embarrassment is weirdly commendable. And by the end, the stunned, but entertained, audience need a moment, or maybe a lifetime, to process what they've just witnessed.
Review date: 3 Apr 2015
Reviewed by: Steve Bennett
Reviewed at: Melbourne International Comedy Festival
Recent Reviews
What do you think?