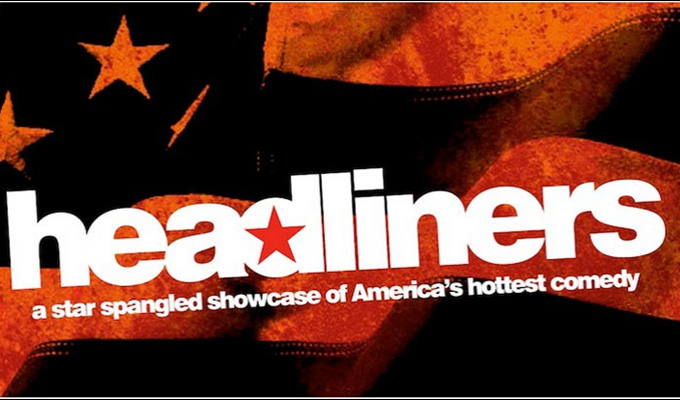 Headliners [Melbourne 2015]
Note: This review is from 2015
Whether by accident or design, there's a varied ethnic mix to the initial line-up of Melbourne's US stand-up showcase Headliners, featuring a Jewish guy, an Indian-American, a Mexican and a black dude. Oh, when will the white man get a break in comedy!
The opening Headliner – if that's not an oxymoron – Myq Kaplan was the stand-out of the show, speaking manically fast as he barrelled his way through an impressively smart and wide-ranging set. Just the briefest of pauses in his bedazzling machine-gun bursts of intense analysis allow space for laughter as the audience's brains catch up with the audacity of his thinking.
He applies an inviolable logic to the world, leading him to such brilliantly, hilariously 'wrong' ideas as the 'ethical paedophile'. You might blanche at the uncomfortable conclusion, but it's hard to argue with the explanation, steamrollered through by his breathless delivery.
There's more fun in the asides, the little garnishes as he comments on his own material, the sarcastic mulls on minor language differences between the States and Australia, or the tongue-in-cheek foreshadowing if an impression he'll sneak in later. It all adds to the unpredictable mood, set by his astutely tangential express-trains of thought. So even when he's being a bit more ostentatiously clever than funny, such as in his overly-elaborate Star Wars analogy, the vibrancy of his approach energises the room.
Hari Kondabolu tweaks the nipples of liberal complacency by repeatedly raising the spectre of colonialism, teasing our latent first-world guilt for laughs. Finding a racial slant on almost everything in life,he also lays claim to a 'feminist dick joke' as part of his well-informed politically skewed stand-up.
Valid points that we all know but don't always like to think about are raised with a sardonic wit, but a clear sense of purpose. He'd fit right in with the satirical TV culture epitomized by The Late Show – and indeed was a writer and sometime correspondent on Totally Biased with W. Kamau Bell – and this was a set that's as funny as it is thought-provoking.
From a US-Mexican border town, tomboyish Cristela Alonzo played the Latina card frequently, her heritage being her defining USP – even though she shines more when she moves away from playing with simple stereotypes.
Lines about growing up in poverty – proper Third World poverty, not 'can't afford to eat out this month' poverty – give her an edge, so that even the simple observation that the organic Whole Foods supermarket is expensive gets an extra socio-economic bite.
But there's most fun in the character portraits she paints, such as the woman who never picks up on fishing-for-compliments expeditions, or the sister pretending to be NASA on the phone, for reasons too convoluted to get into here. With such credible, funny creations you can see why she was given her own sitcom on America's ABC network, the first season of which is just coming to an end. And with a constant, bright smile on her face, Alonzo seems to be thoroughly enjoying her time on stage – and that's contagious.
Wyatt Cenac is arguably the star of the show, describing himself as a 'somewhat recognisable TV personality', from being a former correspondent on the Daily Show. But despite that billing, he disappointed a little, with a consciously pensive delivery that wasn't really matched with an actual depth of thinking. How many other comics have had a go at homophobic preachers focussing on just one line of the Bible and ignoring the rest? Cenac's take on the same is sadly unremarkable.
His laid-back style is appealing but doesn't always pay off. 'People think I'm high a lot,' he says –believably. And in case you were expecting to be disabused of that suggestion, he later goes into a routine about making his way through a giant bag of weed which doesn't hold many surprises, the odd wryly funny line notwithstanding.
His reminder of just how Kim Kardashian got famous is apposite, but he rather labours the point, as he does when comparing that dysfunctional family with the Royals… basically the premise of the deliberately cheesy E! series The Royals with Liz Hurley as the Queen.
Cenac has the ability to hold a room's attention, but he indulges that, offering a set that's often more commentary than comedy.
Review date: 2 Apr 2015
Reviewed by: Steve Bennett
Recent Reviews
What do you think?