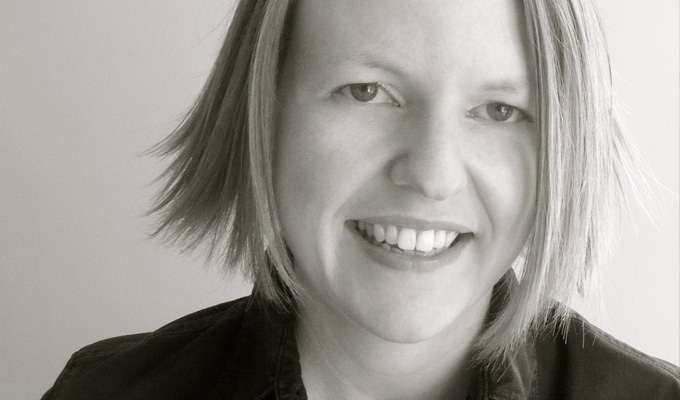 Elaine Malcolmson: Arrangements
Note: This review is from 2015
There's a striking bit in Elaine Malcolmson's hour where the Northern Irish comic takes herself out of the story she's telling about death and remembrance, to reflect upon a friend who's gone missing and presumably killed themself, leaving two children behind.
Understandably, she can't bring herself to integrate this further into her show at the moment. It only deepens the mystery of where this show has come from, and what exactly she's trying to say with it.
Performing in Yesbar, a bar that tweaked its name from Vespbar to mark the Scottish independence referendum, she acknowledges the room with a few throwaway political gags, before introducing a book, Arrangements, that she'll be reading from.
Maintaining she didn't write it, the device is a not entirely successful conceit, whereby Malcolmson affects to be as unfamiliar with the story as we are, hanging thoughts about death, grief and commemoration off it.
Initially, she mis-predicts the story's theme, making it an excuse to rail against florists, against whom she bears a strong and inexplicable grudge.
Painstakingly building a case against these 'horticultural pimps', it's a blunt and confusing start. The outrage is obviously manufactured but to what end? Impassively deadpan, Malcolmson's restrained delivery gives little away.
As it transpires, the book is not about florists, at least not for the most part. Opening with a cryptic text message, it tells of 21-year-old Julie's efforts to arrange her father's funeral arrangements.
So this is another 'dead dad' account, as established a stand-up cliché as the questing adventure tale, Malcolmson notes. But a couple of cynical thoughts about the Edinburgh Fringe notwithstanding, satire isn't her aim. The odd, unlikely occurrences in Julie's narrative prompt her to venture that it's a 'farce', even if she sounds unconvinced.
Switching between Julie's story and her own observations, the character is put through the wringer and made to grow up fast, while Malcolmson reveals only the most superficial details about herself. Every now and then, she mutters 'young people' at the girl's naivety or pops her head out of the book to make a witty comment on the emerging role of social media in marking someone's passing.
Other diversions, about bucket lists, for example, feel forced. The amusing choice of last ever meal that Malcolmson hopes for can't justify the wrench away from Julie's story, the change in tone clunking at the moment the comic has carefully and compellingly seeded an idea that Julie's stepmother is going to be a problem.
Julie's story ultimately takes a darker turn. As she hits rock bottom in a train station toilet, there's a grasp for the farcical elements suggested earlier but it's bleak, bleak humour. There's also a faint whiff of editorial, with Malcolmson seemingly wanting to highlight the importance of mental health but stopping short of explicitly saying so.
Leaving the ending and abiding message of Julie's story unresolved, this is a bold, strange production that poses more questions than it answers. The feeling that legacy is always destined to be interpreted through others' perspectives emerges, but little else tangible.
On one hand, Arrangements is a reasonable storytelling show, on the other, a series of observations on mourning that range from the very funny to middling. What's currently missing is a more effective way of combining them and a more concrete sense of the reasons for doing so.
Review date: 31 Mar 2015
Reviewed by: Jay Richardson
Reviewed at: Glasgow Yesbar
Recent Reviews
What do you think?