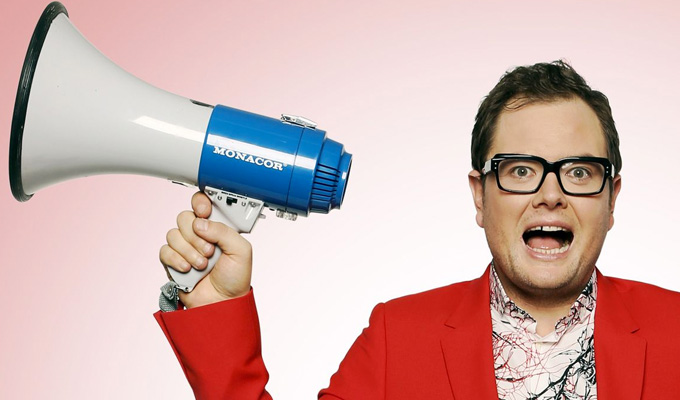 Alan Carr: Yap, Yap, Yap
Note: This review is from 2015
There's an old saying, attributed to 1930s American funnyman Ed Wynn, differentiating innate wit from learned techniques: 'A comic says funny things; a comedian says things funny.'
With his flamboyant camp, Alan Carr certainly says things funny, and with instant warmth, too. That's because –  counterintuitively for such a theatrical delivery – there's little pretence to him. He intuitively says what is genuinely on his mind, including a generous stock of self-deprecating putdowns.
The title of the show refers to the fact that everyone's got an opinion these days, as the most casual glance at Twitter will attest. But the same concept damns him, too, as there's so little of consequence in his own show. That natural humour has fostered a lazy writing, built on half-hearted ideas and forced 'what's that all about?' observations.
His performance histrionics – including an almost McIntyre-esque compulsion to gallivant enthusiastically across the full width of the stage and an impressive repertoire of 'silly walk' physical comedy – prop this up; but the more the two hours wears on, the less effective they become. By midway through the second half when he's screeching in mock-outrage at something as pointless as the folksy wisdom of the breakfast TV weathergirl, the delivery becomes more grating than helpful.
Do you remember school photos? Or Hungry Hippos? Or Woolworths? he demands. There's not really a joke to any of this. The punchline to the collapsed low-cost retailer is 'By the end, the pick and mix had no pick'. It has the sound and rhythm of a gag, sure, but doesn't really mean anything, does it? When just saying the word 'Crocs' in an incredulous tone get a laugh, who needs more A feeling of 'this'll do' pervades so much of Yap, Yap, Yap.
Some of his attempts at universal observation smacked of the desperation more latterly displayed by Lee Evans… ramping up the perfunctory comment that supermarket deli counters inevitably weight out 'a little over' the weight you asked for as if it's some great undiscovered truth being exposed. His set-up repeatedly emphasises that 'you' experience these things to convince the audience of the universality of the observation, whether that's really true or not.
Carr is now more TV personality than stand-up, as proven by the five-minute interlude at the start of the second half when he invites photographs, and every second person whips out their smartphone, no matter how far back in the alphabet their seat row, how few pixels of the screen he'll occupy. He asks if we saw him on This Morning, or Countdown, or telling the story of how he and Lionel Blair once saved a suicidal man (a 1970s innuendo the punchline, and apparent raison d'etre to that whole routine). Name-dropping Carol Vordeman is what people seem to want from the Chatty Man.
When Carr first burst onto the scene, he seemed a breath of fresh air - the flamboyant personality at odds with his real life as a modest call-centre worker from Northampton. Now he's been a major telly star for a decade, the inherent appeal of that shtick has gone, even if his excitably affable manner still holds considerable sway. He might shriek in horror at the thought of doing The Jump, as Channel 4 apparently asked him to do. But of course they did, he is one of their biggest names.
He occasionally touches on topics more personal; after 15 years a singleton he's now living with his partner, and there's something in his relationship with his mother, but it's all glossed over for cheaper gags. There are sometimes some nice turns of phrase too, especially in his bitchier moments, but he's equally happy to go without if he can't think of anything, which makes for dull content if you're paying attention.
But this isn't really for people who do want to pay attention. It's comedy that requires you not to think, nor even to feel. Carr's exaggerated delivery tells you exactly what's supposed to be funny. You can get swept along with the sheer force of his personality… but only so far.
'I enjoyed that,' I overheard a woman saying on the way out. 'I just wish I could remember any of it.' That seems the perfect summary of the empty distraction Carr offers.
Review date: 30 Mar 2015
Reviewed by: Steve Bennett
Recent Reviews
What do you think?